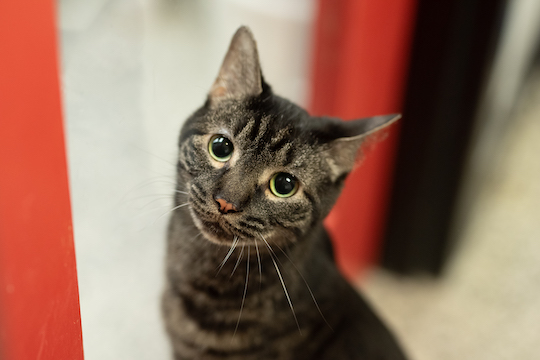 The following animals are ready to be adopted from the Brandywine Valley SPCA in West Chester.
Kronk
Kronk has spent the better part of the last six months in the shelter waiting for a family, and this large, lovable lug is eager to find his people. Kronk knows "sit" and is a big fan of fetch, so make sure you stock up on tennis balls before bringing him home. He loves meeting new people but would appreciate it if his new home has older humans that are scaled to his size. Kronk would like to meet any other dog housemates at the shelter first before committing to forever. If big, silly dogs are your jam, then Kronk may just be the one for you. You can adopt this good boy for a fee you name through Sunday, Oct. 17.
Bread Basket
Golden Girl Bread Basket sports a uniquely gorgeous black and brown coat with an adorable pink nose. She is just as beautiful on the inside, with her sweet, gentle, and affectionate ways. BB loves attention and will happily spend all of her free time on your lap, while she serenades you with purrs. Give Bread Basket the peaceful home she deserves to live out her golden years for a fee you name through Sunday, Oct. 17.
For more information, go to www.bvspca.org or phone 484-302-0865.

See Contributors Page https://chaddsfordlive.com/writers/
Comments
comments