Pennsylvania State Police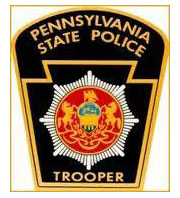 Media Barracks
• State police are investigating the reported theft of $150 worth of tobacco products from the Wawa at Route 202 and Naamans Creek Road on July 16. A report said there are two male suspects who fled in a silver SUV.
• Police said they are investigating the theft of merchandise from the Gap store in Chadds Ford Township on Aug. 24. According to the report, suspects are described as a black man of average build — wearing a baseball cap and a blue medical mask — and a heavyset black female with a black ponytail. The two fled in a white U-Haul van. The estimated value of the stolen merchandise is $1,050.
Avondale Barracks
• Police said Ty Murray, 40, of West Chester, was arrested for DUI. Murray, the report said, failed to stop when a patrol car flashed lights and sirens and a six-mile pursuit followed. Police said Murray showed signs of impairment. He was charged with DUI, fleeing, and multiple traffic violations. The incident happened at 2:05 a.m. on Sept. 16.
• An unidentified motorist was cited for making a faulty left turn in Pocopson Township on sept. 25. No injuries were reported in the two-car crash on S. Wawaset Road at Unionville-Wawaset Road. The cited driver claimed to have been blinded by sun glare. The incident happened at approximately 1 p.m.
• Police are investigating a reported theft at the East Marlborough Township Walmart on Sept. 22. According to the report, two women stole almost $1,400 worth of merchandise.
• State police from the Avondale barracks arrested two teens — a 17-year-old from Landenberg and an 18-year-old from Kennett Square — on drug possession charges following a Sept. 21 traffic stop. The traffic stop was made at 12:08 a.m. on W. Doe Run Road at Valley Road.
• Jason Hughes was arrested for drug possession on July 20, according to a police report. According to police, Hughes, 36, of Oxford, was at the Hilton Garden Inn on Baltimore Pike in East Marlborough Township when police found him with a controlled substance and paraphernalia.

See Contributors Page https://chaddsfordlive.com/writers/
Comments
comments