"We are loved. We are loving. We are loved. We are loving." Say it again with me, "We are loved. We are loving." This mantra is at the heart of righting a major wrong.
You might think that the Jews committed to God and goodness at Mt. Sinai, and the rest was history. The commitment was rash, it failed, and the trauma of the Golden Calf and more ensued. To recover, the Jews needed a way to overcome the trauma, to make it to a new beginning. Love was the way; it still is.
As we approach the Jewish High Holy Days, starting with the Jewish New Year, Rosh HaShanah, we are perhaps more in tune with trauma than in most years. Last year, we were knee-deep in the trauma of the pandemic, switching everything to avoid crowds by staying home, going virtual, or going small. This year, just as we were looking for ways to be together again, we find ourselves confronting our progress and our unfinished business: we are both safer and not at the same time. How do we meet this moment?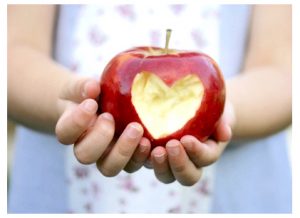 "We are loved. We are loving."
In essence, we need to enact the ritual of starting again. We need to embrace the New Year as a call to meet God properly, to meet God knowingly. What is this knowledge? It is three things: one, God loved us enough after Mt. Sinai to try again; two, we are capable of getting it right, of fixing what is broken; and three, we are allowed to beg, barter, and badger God for something better.
Rosh HaShanah is more than a calendar item; it is a ceremonial crowning of God. We meet God in a sort of engagement ceremony (with Yom Kippur and Sukkot being the wedding) where we affirm God's love for us, our ability to love, and where we set the terms for the wedding.
It is no accident that there are 40 days from this Sunday to Yom Kippur, just as there were 40 days Moses was on Mt. Sinai the first time. These days are our chance to remind ourselves of our worthiness, of our ability, and of our challenges and to get to Yom Kippurready to be sealed in the Book of Life.
When things are hard, and they often are, we tend to forget our worth, or we withdraw from others to preserve our sense of worth. The larger ritual of this time period asks us to draw together, emotionally, regardless of whether we can physically. We draw together to acknowledge that, in the Jewish tradition, God does more, God is more when we recognize the Divine in each other. We do not need the moment to be right to make this year better, we need each other, and we need love. Coming together to remind ourselves of our value and naming our challenges will lead us to see our opportunities, our opportunities to set it right.
"We are loved. We are loving." We will make it to a better place, a better time, a better us.

Rabbi Jeremy Winaker is the executive director of the Greater Philadelphia Hillel Network, responsible for West Chester University, Haverford, Bryn Mawr, and other area colleges. He is the former head of school at the Albert Einstein Academy in Wilmington and was the senior Jewish educator at the Kristol Hillel Center at the University of Delaware for four years. Rabbi Winaker lives in Delaware with his wife and three children.
Comments
comments