Pennsylvania State Police
• Police said they arrested Ryan Haggins, 26, of Philadelphia, following a one-vehicle crash in Concord Township on April 3. The report said Haggins' vehicle struck a tree on Aldan Avenue, but police also learned that he was driving under the influence of drugs and had two young children in the car. According to the report, there were no injuries, but he was charged with endangering the welfare of a child.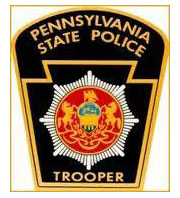 • Police are investigating the theft of e-cigarettes from the Wawa on Route 1 in Concord Township. The incident took place on April 17.
• According to a police report, Michael Herbert, 39, of Glen Mills, was charged with harassment. Police said Herbert struck a 70-year-old woman in the face on Glen Drive. The incident took place on May 16.
• Police are looking for two men on retail theft charges following an incident at an undisclosed store in Concord Township on May 29. The two reportedly took $190 worth of merchandise from the store. The suspects fled, but one was positively identified, the report said, even though his name was not mentioned in the report.
• Police are investigating a case of identity theft in Pocopson Township reported on May 25. A 51-year-old woman reported that someone had used her personal information to open a fraudulent bank account in her name.
• Ashley N. King, 30, of Lincoln University, was cited for excessive speed following a May 26 two-car crash on Lenape Road in Pocopson Township, police said. According to the report, King was driving north on Lenape Road east of Pocopson Road when he lost control going around a curve and railroad tracks. She left her lane of travel, crossing into the opposite lane where she was struck by an oncoming vehicle. Police said King was injured but refused transport. The other driver was not injured.
Kennett Square police are cautioning people to be aware of possible "gypsy" scams following several reports of an individual loitering around backyards but departing when he saw security cameras or being questioned by a homeowner. The individual asked the homeowner whether he needed any driveway repair. While there have been no reports of fraud or scams, police said the person's actions are consistent with those of scammers.
Police urge people not to hire anyone without doing due diligence on their company and not pay for services upfront without work being completed. As with any suspicious circumstance, call the Kennett Square Police Department immediately via 911.

See Contributors Page https://chaddsfordlive.com/writers/
Comments
comments