Pennsylvania State Police
• A 14-year-old boy was arrested on March 22 following a domestic disturbance at the youth's home in East Marlborough Township. A police report said the boy became angry when the Internet was turned off. In response, the boy threw shoes at his father, grabbed him by the shirt, and struck him in the face.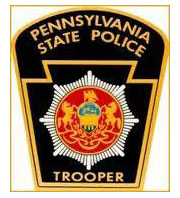 • Police are investigating two separate cases of theft by deception in East Marlborough Township. The incidents happened in February. According to police, a 78-year-year-old woman and an 81-year-old man each received emails asking for GooglePlay cards. Both victims complied, emailing cards totaling $700.
• A 79-year-old woman in Pennsbury Township was the victim of identity theft, according to a police report. That report said someone used the victim's Social Security number to apply for unemployment benefits, despite the fact that she is retired. Police were alerted to the incident on March 23.
• Police said Billy R. Hamilton, 66, of West Chester, was cited for failing to yield to traffic, which led to a two-vehicle crash at the intersection of Unionville- Wawaset Road and Northbrook Road in Pocopson Township on March 16.
• State police are investigating a hit and run accident that happened on Feb. 28 in East Marlborough Township. The accident happened on W. Street Road at its intersection with Byrd Road. According to police, the vehicle, a 2008 Mazda, was eastbound on Street Road when the driver apparently lost control and the car hit a tree. The operator fled the scene.
Police charged a male juvenile with simple assault, harassment, and disorderly conduct following an altercation. The youth allegedly struck a female in the face causing a small laceration on her cheek. The incident occurred on March 13, at approximately 12:42 p.m., in the 500 Block of Magnolia Street, in the borough. The arrest came five days later. Charges were filed with Chester County Juvenile Probation.

See Contributors Page https://chaddsfordlive.com/writers/
Comments
comments