Pennsylvania State Police
• Police are investigating the theft of two catalytic converters from Brandywine River Museum of Art vans on Jan. 18. The report said two men of unknown race or age are the suspects, but there's no surveillance video of the incident, which happened at 12:30 a.m.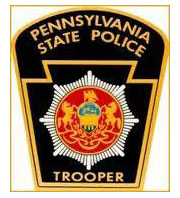 •A catalytic converter was also taken from a Ford Econoline in Concord Township on Jan.13, police said. That incident took place on Route 202. The theft is under investigation.
•An arrest warrant was issued for Anthony Veneri, 44, of Wilmington on charges of making terroristic threats. Police said Veneri made multiple threats against a 45-year-old Glen Mills man on Governor Markham Drove in Concord Township on Jan. 7. Those threats were made "directly and indirectly via social media and text messages."
•A motorist, who was not named in the police report, was cited for speeding following a one-car crash on the Conchester Highway on Jan. 9. The report said the driver, injured in the accident, was eastbound when the car veered to the right and struck a light post. EMS personnel took the driver to Riddle Hospital after he complained of chest and neck pain.
•Police are investigating a case of missing medication at Brinton Manor Nursing Home sometime between Dec. 23 and 24. The report said eight 5mg Percocet were taken from the med carts and that there seem to be numerous discrepancies in the controlled substance log pages.
•Rashad Muse, 26, of Philadelphia, was arrested on retail theft charges after allegedly stealing a 55-inch television from Target in Concord Township on Jan. 23. Police said they found the suspect in the parking lot. He was identified, and the TV returned to the store, police said.
•According to a state police press release, Ryan Santos, 20, of Avondale, was arrested on DUI charges. Police said they initiated a traffic stop for a summary violation on Route 82, south of Route 926 in East Marlborough Township, just after midnight on Jan. 1. Santos was taken into custody for driving while under the influence.
•Police arrested two people from Delaware for DUI and drug possession in Pennsbury Township on Dec. 29. The suspects are a 20-year-old man from Wilmington and a 19-year-old woman from Claymont. They were not identified in the report. Police said they stopped a pickup truck just before 11 p.m. on Creek Road. According to the report, a marijuana grinder was in plain sight, and the odor of marijuana and alcohol were present. The driver was determined to be DUI.

See Contributors Page http://chaddsfordlive.com/writers/
Comments
comments