Pennsylvania State Police
• State police are investigating a Christmas Eve burglary at a Dunkin Donuts on Route 1 in Concord Township. A report said someone unlocked the front door, entered, and stole $450 from a business dropbox.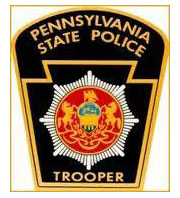 • Police said they arrested Vanessa Thomas, 40, of Louisiana, Mo., at the Sunoco Station at Routes 1 and 202 for ethnic intimidation. According to the report, Thomas was using racial slurs to harass and intimidate customers and staff. The incident happened at 11:35 a.m. on Dec. 27.
• A 31-year-old man and a 30-year-old woman, both from Collingdale, were arrested on drug possession charges in Pennsbury Township on Jan. 11. State police did not name the pair. According to the police report, the arrests were made in the area of Cossart and Stockford roads at 11:30 p.m. The report also said the odor of marijuana and alcohol were detected. Both suspects were found with marijuana and a field sobriety test indicated the driver was impaired.
• State police are investigating the report of statutory rape that happened sometime in 2018. The report lists the victim's age as 17 years old.
• Police said they arrested James Hall, 21, for retail theft. According to the report, Hall left the East Marlborough Township Walmart with a tote full of merchandise without paying. Police said they found him in the back seat of a silver Ford Explorer in the store's parking lot.
• Police arrested a 50-year-old woman from Oxford for retail theft after allegedly stealing 11 items valued at more than $250 worth of merchandise from a business in East Marlborough Township on Dec. 11. Neither the suspect's name nor that of the business were named in the police report.

See Contributors Page https://chaddsfordlive.com/writers/
Comments
comments