Pennsylvania State Police
Media Barracks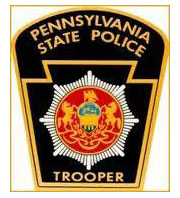 Police said they arrested Alicia Tenuto, 34, of Aston, for violating a Protection from Abuse order. According to the report, Tenuto drove to the victim's Summit Drive residence in Chadds Ford and tried to enter. The victim, a 35-year-old man, has an active PFA order against Tenuto.
Avondale Barracks
• Lucas E. Barney, 20, of West Chester, was cited for excess speed following a one-vehicle accident in Pennsbury Township on Jan. 3, according to a press release. Police said Barney was driving westbound on Route 926 when he lost control of the 2014 Subaru Forrester while making a left turn unto Parkerville Road at 10 a.m. The Forrester ran off the road and struck a utility pole.
• A 31-year-old West Chester man was arrested for drug possession in East Marlborough Township on Dec. 31. Police did not name the man but said they stopped him for traffic violations and then observed loose marijuana leaf in the center console. Police made the stop at 4:28 p.m. on Route 1 at Schoolhouse Road.
• Police said they cited Desire N. Parker, 25, of Suffolk, Va. after she reportedly ran a red light on Route 1 at Schoolhouse Road in East Marlborough Township and struck another vehicle. According to the report, Parker was driving north on Route 1, failed to stop at the light, and hit the other car making a left turn from Schoolhouse onto Route 1. No injuries were reported.

See Contributors Page http://chaddsfordlive.com/writers/
Comments
comments