Pennsylvania State Police
• State police said a 59-year-old man from Gibbstown N.J., was killed in a two-car crash on Route 1 at Schoolhouse Lane in Concord Township on Dec. 23. They identified the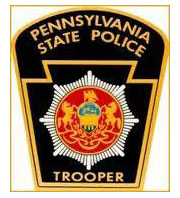 deceased as Donald H. Degnan. According to the report, Degnan was driving south on Schoolhouse Lane and turned onto southbound Route 1. He then continued to move from the right lane to the left, without signaling, to merge with northbound traffic. A southbound motorist — not identified in the report — then struck the driver's side door of Degnan's Saturn. Degnan's car then ran onto the median, spun 180 degrees, and hit a traffic sign, police said. The accident happened shortly before 4 p.m. Degnan was pronounced dead at the scene while EMS personnel took the other driver to Riddle Hospital for evaluation.
• Police didn't identify drivers or give the directions they were traveling but said a two-vehicle crash at Routes 1 and 202 on Nov. 29 happened when the driver of a Chevrolet Silverado turned left onto Route 202 from a no-turning lane and crashed into another vehicle driving through the intersection. There were no injuries reported, and both vehicles were driven from the scene. The accident happened at 5:57 p.m. Police did not cite either driver.
• Police reported no injuries stemming from a Dec. 18 two-car crash at Route 1 and Cheyney Avenue in Concord Township. The accident happened at 9:26 p.m. Police said a 31-year-old woman from Philadelphia was following too closely behind another car heading south on Route 1. According to the report, the driver was not cited.
• A two-car crash on Naamans Creek Road and Pyle Road led to a 57-year-old woman from Wilmington being cited. Police said Mary J. Cash was driving north on Naamans Creek and made a left turn without signaling and struck an oncoming vehicle. The report said the driver and the passenger of the second vehicle were suspected of having minor injuries, but both refused transport. The accident happened at 1:13 p.m. on Dec. 22.
• According to a police report, Shannon M. Saling, 35, of West Chester, was cited for her involvement in a two-car crash on Route 1 and Schoolhouse Lane on Dec. 16. Police said Saling was driving south on Route 1 when she lost control trying to make a right turn onto Schoolhouse Lane. No injuries were reported.

See Contributors Page https://chaddsfordlive.com/writers/
Comments
comments