This has been a tough year for everyone, especially our locally-owned shops and restaurants, and this year shopping local is vital to their survival. As the holiday season approaches, Delco residents are encouraged to shop local and Keep the Cheer Here!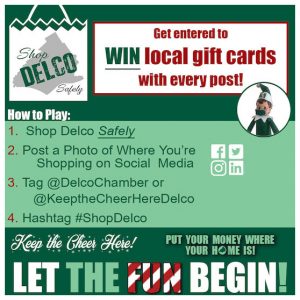 In partnership with Visit Delco PA, the Delaware County Commerce Center, and the Delaware County Chamber of Commerce, Delaware County Council is launching the Keep the Cheer Here! social media campaign.
Residents are encouraged to put on their masks and visit a Delco shop or restaurant, and then post a picture or check-in using the hashtag #ShopDelco on Facebook, Twitter, Instagram, or LinkedIn and tag @DelcoChamber or @KeeptheCheerHereDelco now through Dec. 30. Every post is an entry into the drawing for gift cards to businesses across the county!
"This is a fun and easy way to show some love and support for our Delco businesses who have been greatly impacted during the pandemic," said Delaware County Councilwoman Elaine Paul Schaefer. "Delco business owners are our family, friends, and neighbors. We need to support them. Put your money where your home is!"
Winners will be drawn each Wednesday and will be contacted by the Delaware County Chamber of Commerce and mailed or emailed the gift cards.
"Delco has incredible shops and restaurants right here in our own backyard," said Delaware County Chamber of Commerce President Trish McFarland. "Instead of shopping at big box stores or online sites, support our local community at a time when they need it the most. Keep the cheer here!"
Residents are reminded to follow public health guidance while supporting shops and restaurants. Delco businesses have worked hard to keep employees, customers, and the community safe and residents need to do their part to protect the business community and also do everything they can to allow businesses to stay open.
Protect our businesses and protect each other:
Wear a Mask
Social distance
Stay home if you're sick
Take advantage of curbside pickup, online orders and delivery, and outdoor dining
Learn more about how to Keep the Cheer Here: www.keepthecheerheredelco.com
Official Rules here.

Comments
comments