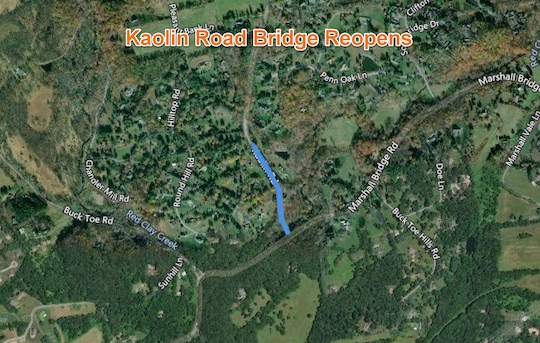 A day after Kennett Township Manager Eden Ratliff said the township was waiting to get the official word from the Pennsylvania Department of Transportation, the township announced the reopening on its Facebook page and website.
The bridge reopened Thursday morning.
"The Pennsylvania Department of Transportation has reopened the bridge carrying Kaolin Road over the west branch of the Red Clay Creek in Kennett Township," according to a PennDOT press release. "PennDOT's contractor (J.D. Eckman Inc. of Atglen) replaced the existing superstructure on the single-span 60-year-old bridge that is 60 feet long and 44 feet wide."
"I'm excited the bridge is going to be back open," said Supervisors' Vice Chairman Whitney Hoffman.
The bridge repair and replacement project was part of a $4.9 million project covering bridges in three counties. Work on the bridge began July 13 and was expected to finish next year.
Ratliff said at Wednesday's virtual supervisors' meeting that the Kaolin Bridge project was ahead of schedule. He also echoed comments that Acting Kennett Police Chief Matt Gordon made in September, warning motorists to stop at the sign at Marshall Bridge and Kaolin Road.
"For those of you who have willingly and without hesitation been running the stop sign there … that bridge is going to be open, so you should stop at the stop sign or else there will be an accident," Ratliff said at the meeting.

Monica Thompson Fragale is a freelance reporter who spent her life dreaming of being in the newspaper business. That dream came true after college when she started working at The Kennett Paper and, years later The Reporter newspaper in Lansdale and other dailies. She turned to non-profit work after her first daughter was born and spent the next 13 years in that field. But while you can take the girl out of journalism, you can't take journalism out of the girl. Offers to freelance sparked the writing bug again started her fingers happily tapping away on the keyboard. Monica lives with her husband and two children in Kennett Square.
Comments
comments