Chadds Ford Township supervisors Wednesday night voted unanimously to extend the outdoor dining permits for another 120 days. Supervisors began issuing the permits this spring to help restaurants that were forced to close due to Gov. Tom Wolf's pandemic response order.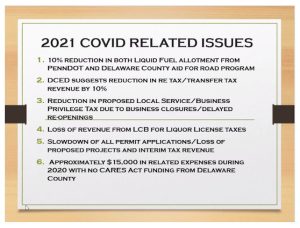 No extra fees are included in the extension unless the building inspector has to make a return visit to verify that tents are safe and that all safety regulations regarding outdoor heaters are met.
The action came during a brief 30-minute work session conducted via Zoom on Nov. 18.
The board also authorized spending $3,000 for an interpretive sign marker at the Brinton 1704 House on Oakland Road. The signage is part of the Brandywine Battlefield Historic Marker Project — part of the Brandywine Battlefield Taskforce — but the township will be reimbursed for that money, according to township Manager Maryann Furlong. The Pennsylvania Society of Sons of the Revolution and its Color Guard will reimburse the township once they get proof the work is done.
That vote, too, was unanimous.
Furlong gave the board, and the few people watching on Zoom, a brief overview of what's being considered in developing the township's 2021 budget. She didn't go into any detail with numbers, saying that the breakdown of expenses and revenues would be similar to what they were for this year's budget. She did add, however, that the township lost money due to the COVID-19 pandemic.
There was a 10 percent drop in liquid fuels money from PennDOT and county aid for the road program. Business closures cost the township some tax revenue, and there was a loss of approximately $15,000 because the township never received CARES Act funding from Delaware County.
The budget will be discussed further during the supervisors' next meeting, scheduled for Wednesday, Dec. 2 at 7 p.m.

Rich Schwartzman has been reporting on events in the greater Chadds Ford area since September 2001 when he became the founding editor of The Chadds Ford Post. In April 2009 he became managing editor of ChaddsFordLive. He is also an award-winning photographer.
Comments
comments