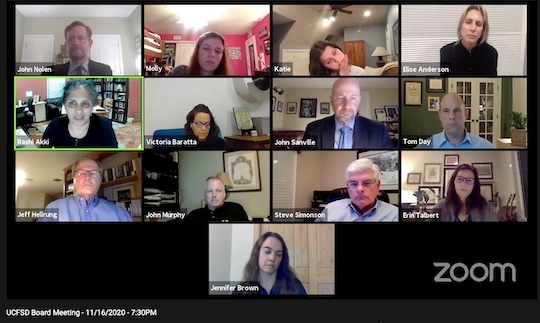 Students at Unionville High School and CF Patton Middle School are back to virtual classes only. School Board directors agreed on the move Saturday, then re-affirmed with a vote during Monday night's regular meeting Monday, Nov. 16. The change was effective that morning.
Superintendent of Schools John Sanville said he wanted to change over the weekend out of concern over the rising number of COVID-19 cases.
"Just a week ago, I recommended to the board and to the community moving out high school and middle school toa virtual mode on Nov. 30," Sanville said Monday night. "While that plan was a good plan, events over the past week led us to accelerate our plans and to move our high school and middle school students to virtual today."
He continued, saying he wasn't surprised over what's been going on, the spike in COVID cases, and the reaction to that increase. But, "What is unanticipated is how quickly things are happening…how the numbers and the transmission rates are rising around us much quicker than we expected," he said.
There was no discussion on exactly how the weekend decision came about or how it was conducted, but Director John Murphy said he would have preferred it be done in an open meeting. In a follow-up email, Murphy said, "…there was no vote per se, but the board was consulted with at least a majority in agreement."
During public comment, Chadds Ford resident Craig Huffman — who is also chairman of the township Planning Commission —said he was concerned about the lack of consistency regarding the district's guidance about the move. He said it appears the district has moved from using Chester County Health Department guidelines to those of Children's Hospital of Philadelphia.
"Chester County Health Department has not recommended going back to virtual learning. In fact, some of the guidance coming out of Chester County's Health Department last week was contra shutting down at this point," Huffman said. "I'm concerned about that. It appears we're picking and choosing guidance as opposed to sticking with one set of regulations for our professional input."
Huffman added that there's little chance of transmission in the schools because there are only a few students in the classroom and they are masked and maintain safe distances.
Another resident, Brian Lamb, of Pennsbury Township, echoed Huffman's comment about no transmission within the schools. And he added a reminder that Dr. Salwa Sulieman, the osteopathic physician the district retained as a consultant on the virus, said last week that students were safer in school than out in the community. He wanted the board to consider re-opening schools full time.
"It would be better for students academically and emotionally, better for parents who've endured a lot, and better for teachers who are saying the hybrid model is unsustainable. It would also be better for reducing the spread of the pandemic, as staff and students are less likely to contract the virus in school than they are in the community," Lamb said. "Tonight, I'd like to ask the board to vote to draft a plan for a full return to school. With in-school transmission lower than community transmission, I believe that is the right thing to do."
Board President Jeff Hellrung said returning to full-time, in-person, five-day per week schooling can't yet be done because of the need for social distancing..
"The one thing that takes that off the table is the requirement we have to do social distancing. We can make hybrid plans work with social distancing, but we can't accommodate full-time, five-day per week instruction for all of our students and still have the distancing that's required," Hellrung said.
Hellrung added later that all students benefit from in-person instruction but that safety standards must be met to avoid further spread of the virus and that only about half of the students in middle and high school are attending the in-person classes during their two days out of six in-person education.
Citing a letter from Sanville, Hellrung said, "the eroding benefits of grade six to 12 hybrid model associated with the hybrid model were no longer worth the rapidly escalating risks. Not yet so, for the K-5 hybrid, which is thriving educationally and is operating at far less risk to our students and staff."
He said that was the rationale for the decision on Saturday after all board members were consulted, but added: "To those who want, as I do, more in-person instruction, I implore you to follow all COVID mitigation practices including masking, social distancing, and hand-washing."
The vote to re-affirm Saturday's decision was unanimous. On Dec. 7, the board will consider whether the elementary schools should return to virtual-only classes.

Rich Schwartzman has been reporting on events in the greater Chadds Ford area since September 2001 when he became the founding editor of The Chadds Ford Post. In April 2009 he became managing editor of ChaddsFordLive. He is also an award-winning photographer.
Comments
comments