Pennsylvania State Police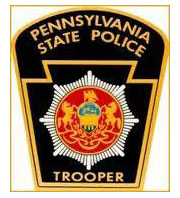 • State police from the Media barracks are investigating the report of an alleged rape in Concord Township. According to the police report, troopers were called on Oct. 29 to a Johnson Farm Lane residence for a domestic dispute report. During that investigation, police learned of the rape allegation. That incident reportedly took place on Oct. 21.
• Someone broke into two vehicles parked on Evergreen Place in Chadds Ford Township and stole a wallet with $40 in cash and two bank debit cards. The incident took place on Oct. 25. The unknown suspect used one of the cards in Wilmington later that night. Police are investigating.
• Police are investigating a case of harassment in Concord Township. A report said Daijon Wooten, 20, of Washington, DC entered a woman's car, then grabbed her arms and neck to pull her close to him. The two are coworkers and, according to the report, Wooten has been trying to establish a relationship with the 19-year-old woman, something she doesn't want.
• A 24-year-old man from Rising Sun, Md., not identified in the report, was arrested for drug possession in Pocopson Township on Oct. 31. Police said they initiated a traffic stop on Lenape Road at Williamsburg Drive. When they approached the vehicle, a strong smell of marijuana could be detected coming from the car. A probable cause search revealed marijuana and paraphernalia. The driver also admitted to recently smoking cannabis, police said.
• Police arrested a 40-year-old man and a 34-year-old woman, both from Peach Bottom, on drug possession charges. The police report said a trooper was conducting a welfare check in the Wawa parking lot in East Marlborough Township shortly before 6 p.m. on Oct. 1 when the woman told police she had heroin in her purse. Police confiscated the contraband. They didn't identify either of the suspects.

See Contributors Page https://chaddsfordlive.com/writers/
Comments
comments