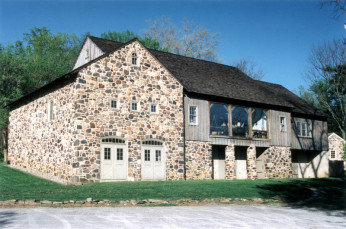 While non-profits have been hurting financially for years, the COVID-19 pandemic — and the reaction to it — have forced the Chadds Ford Historical Society to go into hibernation.
That was the word from Randell Spackman, president of the CFHS. Over the weekend, he sent out a press release saying: "As you know, we have been forced to cancel, or drastically change, virtually all of our fundraisers and events in 2020. With the prospect that we might not be able to host a major fundraiser until Chadds Ford Days in September 2021, we have taken the difficult decision to hibernate through the coming winter."
He said in an interview that the society has to do what it can to stay afloat and relevant.
"We don't want to give the illusion that we're closing or going away," he said in the interview. "We're not the owners of the Chadds Ford Historical Society. We're the stewards. We want to keep it going for generations to come." Because of COVID-19 restrictions, "our revenue streams have been decimated. We need to come out of this for the future."
The hibernation won't be a complete shutdown, Spackman said. There will be no regular office hours, but the Historical Society will offer tours of its historic homes by appointment, and people can still visit the office, but by appointment. There will also be a virtual event for Christmas.
"We're going to have a virtual gingerbread contest, similar to the pumpkin carve this year. We'll just be going from pumpkin to ginger," he said.
More details will be released later, but Spackman explained it would be similar to this year's pumpkin carve in that people can send in photos of their gingerbread creations. One idea is that people could make historical or famous houses and buildings from gingerbread.
Hibernating also gives the society a chance to work on its education programs and events for next year, he said. "We just have to adapt to the environment."
Spackman said CFHS still plans on a Chadds Ford Days for September of 2021, and a plein air event is still on tap for this coming spring.
The Historical Society did make some money this year, but it also had expenses. The virtual Pumpkin Carve brought in $2,500, but CFHS also just spent money to fix the roof on the Barns-Brinton House, and the John Chads House also needs work.
"Even when hibernating, the maintenance of our 300-year-old buildings must continue. Twenty-twenty is a year when the generosity of our members and friends will be the key to our survival. Gifts may be mailed — 1736 Creek Road, Chadds Ford PA 19317, or made directly through PayPal.
People interested in touring the buildings should send an email to info@chaddsfordhistory.org.

Rich Schwartzman has been reporting on events in the greater Chadds Ford area since September 2001 when he became the founding editor of The Chadds Ford Post. In April 2009 he became managing editor of ChaddsFordLive. He is also an award-winning photographer.
Comments
comments