Pennsylvania State Police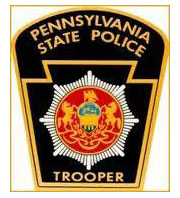 • Police said Ernst Richardson, 49, of Wilmington, was arrested for attempted shoplifting at Wegmans in Concord Township on Oct. 3. According to the police report, Richardson tried to leave the store without paying for the 11 items he had in his shopping cart. According to the report, when store security approached him in the parking lot, he abandoned the cart and fled on foot. Police eventually made contact with him, they said, and placed him under arrest.
• A 45-year-old man from Port Cardon, Pa., was arrested for assault with bodily injury after an incident in the Comfort Inn Suites in Concord Township on Oct. 25. Police identified the suspect as Joseph Ferraro. The report said Ferraro and the woman victim had gotten into a verbal altercation that escalated to the point where Ferraro threw a medicine bottle at the victim, hitting her in the face, causing bruising, swelling, and a small laceration around her left eye.
• Police are trying to find the owner or owners of several items found at Wegmans between December 2019 and May 2020.  Items found include rings, a bracelet, cell phone, and wallet. Anyone who may have lost any such item during that time frame should contact the state police at 484-840-1000.
• According to a police report, Gregory Tingle, 36, of Lincoln University, was arrested for drug possession. Details were not included in the report, only that he was in possession of methamphetamine on Sept. 20 in Kennett Township.
• A 17-year-old male from Chadds Ford was injured and charged with failing to stop at a stop sign on Oct. 21. Police said the youth ran a stop sign at Crosslands Drive and Route 926, pulled out into oncoming traffic, and was struck by an eastbound vehicle. Longwood EMS transported the youth, but the driver of the other vehicle refused transport.
• Larissa Smith, 22, of Oxford, was arrested for DUI in East Marlborough Township on Oct. 18, a police report said. Police said they stopped Smith on East Baltimore Pike at 5:30 a.m. for traffic violations and took her into custody on suspicion of driving under the influence.
• Police said a 67-year-old West Marlborough Township woman was the victim of a scam. A report said someone convinced her to hand over $30,000 in cash. Details of how that happened were not in the report.
• A 56-year-old man from West Grove, Timothy Daddario, was arrested for DUI according to state police. A report said troopers made a traffic stop on East Baltimore Pike at Schoolhouse Road on Oct. 11 shortly after 11 p.m. and determined Daddario was DUI.

See Contributors Page https://chaddsfordlive.com/writers/
Comments
comments