Pennsylvania State Police
• State police said they arrested Demetrios Karakasidis, 47, of Chadds Ford for DUI following a crash on Evergreen Place in Chadds Ford Township. The report did not include crash details other than it happened at11:02 p.m. on Aug. 31. A 41-year-old woman, also of Chadds Ford, was the reported victim.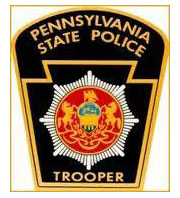 • Ian Reynierse, 32, of Crum Lynne, was arrested for stealing four firearms from a residence on Reed Street in Concord Township, according to the report. Police said Reynierse is the brother of the victim's girlfriend. Among the firearms stolen were three sidearms and one rifle. The incident happened on Sept. 24.
• Police are investigating a case of theft by deception involving an 80-year-old man from Chadds Ford. According to the police report, the victim's family called police after they were unable to contact him for most of the day on Oct. 6. He was found at the Giant in Dilworthtown Crossing, where he had gone to purchase gift cards. The victim had been contacted in a phone scam in which someone posing as a law enforcement officer told him to buy gift cards, or he'd be arrested. He purchased $9,000 worth of Nike and Visa gift cards.
• Police cited a 31-year-old man from Avondale for his involvement in a three-vehicle rear-ender accident on Route 1 at State Farm Drive on Oct. 7. All names were redacted from the police report, but the incident happened at 3:50 p.m. The driver and two passengers in the second vehicle were believed injured, but they refused transport.
• Police are investigating reports of items having been stolen from several vehicles in Concord Township on Oct. 8. The vehicles were parked on Thomas Speakman Drive.
• A one-vehicle accident on Route 1 in Pennsbury led to the driver being charged with DUI. The accident happened just north of Hickory Hill Road at 3:16 p.m. on Sept. 26, the police report said, but it didn't identify the driver. The motorist was southbound in the left-hand lane, police said but struck a curb while negotiating a curve. As a result, both driver-side tires went flat. Police arrested the driver for being under the influence of illegal drugs.
• Police arrested a 22-year-old woman from Oxford on charges of DUI following a crash on Route 52 at Wayne Drive in Pocopson Township. The accident happened at 4:01 p.m. on Oct. 6. According to the report, police found the suspect seated on the ground next to her vehicle, with the odor of alcohol emanating from her breath and body. A field sobriety test indicated impairment. The driver of the second vehicle was taken to Chester County Hospital for treatment of injuries. DUI and other charges are pending.
See Contributors Page http://chaddsfordlive.com/writers/
Comments
comments