Middle and high school students in the Unionville-Chadds Ford School District will be going back to the classroom beginning Oct. 26. It will be for two days per week, based on a hybrid model previously approved by U-CF directors. Students will have online classes for the rest of the week.
Board members voted for the return during their Oct. 12 meeting. Oct. 12 was also the first day K-5 students returned to their classrooms. Before the vote, directors received an update on COVID numbers from Dr. Salwa Sulieman, an osteopathic physician affiliated with Nemours Alfred I. duPont Hospital and an advisor to the school district.
Sulieman said that while case numbers have increased among children, some of that can be attributed to an increase in testing. Another aspect of the increase resulted from local gatherings. All-in-all, though, she said she's pleased with the numbers and that the projections look good. She did offer a word of caution, however. Sulieman said there could be a big uptick in cases from November through January because of the holidays and that it's the time of year when viruses are more active.

She cautioned that wearing masks and maintaining social distancing remain essential in slowing the spread of COVID-19.
Assistant Superintendent John Nolen said one-third of the students would be in the classroom every day for two days in a row and remote the other days. He stressed to parents that there would be a change to all synchronous learning during those remote sessions.
However, he added, "There will be some activities where the student at home can turn off the screen. They can do some activities on their own, certainly with teacher guidance and teacher check-ins. We don't want any parent or student to assume that when they're home, they'll be staring at a screen all day. That won't happen. Our teachers are much better than that…There will be activities where they don't have to be watching the screen."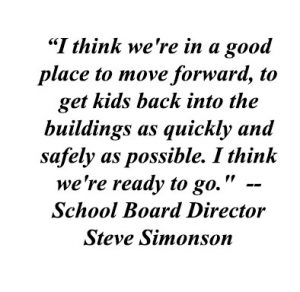 Parents will have the option of keeping their students at home for online-only instruction, but they will also have the option of returning to in-person classes at any time. Nolen said the administration anticipates about 15 to 20 percent of the older students would stay will virtual learning, which is about the same as the K-5 students. That's the same percentage reflected in a survey the district conducted in July, Nolen said.
Superintendent of Schools John Sanville said he anticipates more students will come back to in-person instruction as they and their parents see that things are going well. He also said the administration is looking at ways to maintain the recommended social distance of six feet when more students return to the physical classroom.
The vote to bring the middle school and high school students back to the classroom — contingent on COVID numbers remaining consistent at current levels — was a unanimous 9-0.
Director Elise Anderson was initially reluctant to a return to in-person instruction but has relented.
"I'm not 100 percent comfortable with bringing them back into the buildings, but I'm willing to suspend my concerns in light of Dr. Sulieman's presentation and her interpretation of the data and her recommendations," Anderson said, adding that "We will be absolutely vigilant and immediate to act to contain any virus as it comes."
Director Steve Simonson said the district is "solid" for getting students back into brick and mortar learning based on the consultations with Sulieman, and with the guidance from health departments.
"And we have a set of procedures in place should we see cases rise and know what to do. So, I think we're in a good place to move forward, to get kids back into the buildings as quickly and safely as possible. I think we're ready to go."
In reviewing the first day of in-person instruction for the K-5 students, Sanville said it was "a resounding success." He made that comment earlier in the day during the board's Curriculum and Instruction Committee meeting. He praised teachers, parents, and students.
"Everyone was so thrilled to get in. From parents preparing their students and swearing their masks, knowing the rules, and social distancing — fantastic. And teachers putting together lessons. It's not easy to do. It's not only the first day of school, it's the first day of new school. People have been working like crazy to make sure it happened," Sanville said.
Tim Hoffman, the Director of Curriculum and Instruction, also praised the parents for getting their kids prepared for classes with the new COVID guidelines and praised the preparation of teachers and building personnel.
"People were prepared. You go into that prepared, and people aren't as flustered, and that showed throughout the organization," Hoffman said.
He admitted, though, that day one was not perfect. He said dismissal was awkward, but they will change how that's done. Primarily, students will be dismissed alphabetically so there won't be as much of a backup when parents pick up their kids.

Rich Schwartzman has been reporting on events in the greater Chadds Ford area since September 2001 when he became the founding editor of The Chadds Ford Post. In April 2009 he became managing editor of ChaddsFordLive. He is also an award-winning photographer.
Comments
comments