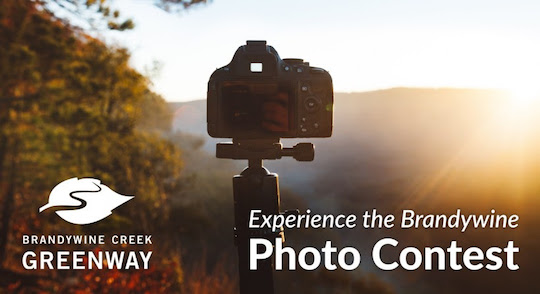 • The Brandywine Conservancy is running a photo contest "Experience the Brandywine," now through Oct. 25. The contest is in celebration of the 10th anniversary of the Brandywine Creek Greenway. Submitted photos can highlight one of the many fun recreational activities in the Greenway — from hiking, biking, paddling, fishing, and more — or feature some of the breathtaking views of protected open spaces and historical sites within the Greenway. Three winning photographs will be selected by a panel of judges to receive one of three prize packs featuring products from Patagonia, TREK, and The Whip Tavern (totaling up to $600 value). There is no cost to participate in the photo contest and all are eligible to enter. A complete list of rules and regulations, as well as for instructions on how to submit the photos, can be found at www.brandywine.org/photo-contest. The winning photographs will be announced on Thursday, Oct. 29.
• Concord Township will host an open-air open house for the Garnet Valley Greenway Feasibility Study and the Smithbridge Road Corridor Improvement Project on Tuesday, Oct. 13, between 4 and 6 p.m. at the Concord Township Public Works Building, 675 Smithbridge Road. Masks and social distancing are required. Learn about plans for these projects, ask questions, and provide feedback.
• Mt. Cuba Center is planning a night hike for Saturday, Oct. 16, and 24. Visitors can experience the stars and the sounds of nature at night. Listen as the night comes alive with the chatter of owls, frogs, crickets, and maybe even a fox or two. Learn about the nocturnal animals that call our natural areas home and how to spot and listen for them once the sun goes down. The event is BYOF — bring your own flashlight. The cost is $15 for adults, $8 for kids 6-17. Go to the website for more information and for tickets.
• While Earth Day celebrations in April were canceled because of COVID-19, celebrations are continuing into the fall, as the Chester County Conservation District and Chester County Parks and Preservation give away seedling trees to county residents. The giveaway begins Friday, Oct. 16, from noon to 5 p.m. at Willowdale Veterinary Center — 717 Unionville Road — in Kennett Square (property adjacent to East Marlborough Township building) and at Warwick County Park near Pottstown. A second tree giveaway will be held on Saturday, Oct. 17 from 9 a.m. to 2 p.m. at Exton Park.
• PAWS for People is resuming training for potential pet therapy teams at its Newark headquarters. The next two-session dates are Wednesdays, Nov. 4 (orientation), and 18 (training) from 6-9 p.m. Both sessions are required. Another two-date session is scheduled for Nov. 7 and 21, from 9 a.m. to 1 p.m. Who should attend? Anyone with a gentle, people-friendly pet interested in volunteering time to work with children and adults with varying needs. Pre-registration required: Online: www.pawsforpeople.org or call 302-351-5622 for more information.
• Delaware County Council is considering an ordinance that would decriminalize marijuana possession in the county. On Oct. 14, Delaware County will hold a public hearing regarding the pending ordinance to decriminalize the possession of small amounts of cannabis. The meeting is at 6 p.m. in the County Council Public Meeting Room, 201 W. Front St., Media. The hearing will be streamed live on the County's website and Council's Facebook page, www.facebook.com/DelawareCountyCouncil/ The ordinance can be viewed online.

See Contributors Page http://chaddsfordlive.com/writers/
Comments
comments