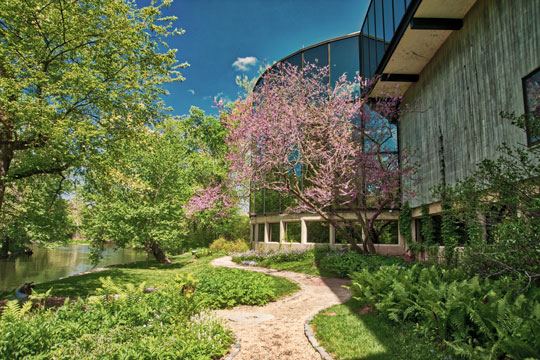 It's been a tough year for everyone, including the Brandywine River Museum of Art. According to Andrew Stewart, the director of Marketing and Communication, some traditions will continue despite restrictions despite the COVID pandemic. And there will be something new.
The museum was shut down from the middle of March through June and reopened on July 1. Stewart said the museum reopened with a six-day operation and began using timed tickets for visitors. Still, attendance has been down to 30 percent of normal.
"It's been quiet, but we've had a steady flow," he told members of the Chadds Ford Business Association during the group's October meeting conducted via Zoom.
But online exhibits and Facebook live events have been popular, he added.
"They resonate with people because, for most folks, they couldn't get out and they gave people a chance to see the creek or familiar places that are peaceful and beautiful…We've seen a dramatic increase in our online engagement, which has been great, but obviously we'd love to see more people in the door."
The museum did extend some of the exhibits from earlier in the year were, he said. Stewart specifically mentioned Votes for Women, the display that commemorated women getting the right to vote in 1920. That, however, is now closed.
Also extended was the photography exhibition, Witness to History, a collection of photographs from the civil rights march from Selma to Birmingham, Ala. in 1965. A then 24-year-old college student from New York, Stephen Somerstein took the photos. He was scheduled to speak at the museum on April 1, but that was canceled because of COVID restrictions. There is a virtual program with him scheduled for Oct. 6.
Looking ahead to the holiday season, Stewart told the CFBA members that Brandywine Christmas, the annual holiday display, will still happen, and it will actually start earlier than usual. Instead of the train display opening to the public on Black Friday, the day after Thanksgiving, it will go up on Oct. 31, Halloween. The Ann Wyeth McCoy doll display will also be up on Oct. 31.
Stewart said the train display will be set back a little farther in that second-floor gallery and will include train sets donated by Nick and Jamie Wyeth. He added that the Jamie Wyeth trains were ones he bought with Andy Warhol.
The Critters, those handmade Christmas ornaments, will be on sale throughout the season, he said.
The museum will be open seven days per week for the holidays, he added. Beyond that, he said, there are no regular exhibitions planned until June.
"We're just playing by ear for now."

Rich Schwartzman has been reporting on events in the greater Chadds Ford area since September 2001 when he became the founding editor of The Chadds Ford Post. In April 2009 he became managing editor of ChaddsFordLive. He is also an award-winning photographer.
Comments
comments