Pennsylvania State Police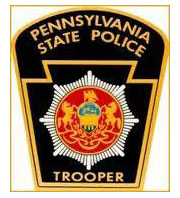 • Police said they arrested a Garnet Valley High School teacher for inappropriate Internet interactions with a recent Garnet Valley graduate. The report identified the teacher as Derek Vattellana, 38, of Glenmore. The victim is an 18-year-old woman from Chester Heights. Charges against Vattellana include possession of instruments of crime, indecent exposure, and open lewdness. He was released on $50,000 unsecured bail.
• State police reported they're investigating a case of theft by deception. Details released are few, but a report said a 72-year-old man from Chadds Ford was directed to buy gift cards and to give those card numbers over the phone to an unknown person. The victim is out $18,000, the report said.
• A 38-year-old man from Delaware was arrested on DUI charges in Concord Township on Sept. 26. Police did not release the accused's name in the report but said the incident happened at the Wawa on Route 202 at Naamans Creek Road at 1:20 a.m.
• Police said they arrested an 18-year-old man from Broomall for DUI following a traffic stop on Route 202 at Spring Hill Road. The arrest took place at 8:11 p.m. on Sept. 27 after police observed an unsafe U-turn. The suspect's name was not released in the report.
• On Sept. 22 at 8 a.m., state police made a traffic stop for a vehicle code infraction and wound up arresting the driver on an outstanding arrest warrant. Police didn't name the suspect in the report, identifying him only as a 46-year-old man from Pike Creek, Del. The suspect was also charged with DUI and drug possession. Police made the stop on Route 1 at Bayard Road in East Marlborough Township.
• State police from the Avondale barracks said they arrested Dedrick Crawford, 30, of Baltimore, Md., for drug possession on Aug. 15. The incident took place on Route 1 near Route 82 in Kennett Township at 1:27 a.m. According to the report, police stopped Crawford's vehicle for expired registration but smelled marijuana when they approached the car. A probable cause search ensued, which revealed a small amount of marijuana. The report also said Crawford admitted to using marijuana recently. They gave him a field sobriety test, which indicated impairment, the report said.
• According to a police report, Jeanette Steffe, 39, of Kennett Square, was arrested on retail theft charges. The arrest came on Aug. 8 at 9:47 p.m. at the East Marlborough Township Walmart. The report said Steffe used items she had paid for to hide $370 worth of merchandise she was trying to take without paying.

See Contributors Page https://chaddsfordlive.com/writers/
Comments
comments