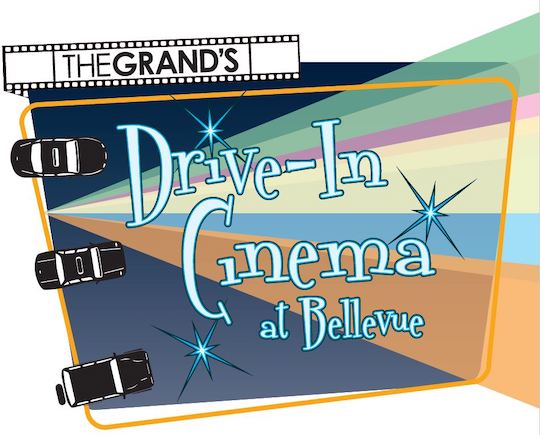 It might not be like the old days, but drive-in movies are coming to Bellevue State Park courtesy of The Grand.
After a successful string of socially distant concerts, The Grand is offering a new series of events hosted at Belleveue State Park. The Grand Cinema at Bellevue will begin the weekend of Oct. 2 and 3 with two movie musicals: "Pitch Perfect" and "Disney's Mary Poppins." The series will likely continue through the month of October and early November, according to a press release.
"As we continue to look for creative ways to serve our community when we can't do indoor shows, we thought that a series of movie musicals in a drive-in setting would both appeal to the public, especially families, and would also connect to our Broadway tradition at The Playhouse," said Executive Director Mark Fields in the release.
The Playhouse on Rodney Square, housed inside the historic DuPont building, is home to the country's longest continuously operating Broadway touring stop (operating since 1913). With over 2,000 Broadway in Wilmington subscribers, the series is hosts more than seven musicals per year for the Broadway novice up to the Broadway buff.
"By tipping our hat to the strong desire for Broadway entertainment in the city, we hope to continue our tradition of presenting the finest in Broadway musicals – now on the big screen," said Fields.
Tickets are only available here, are on sale now, and are $15 per person (up to four people per car), plus fees. Children under 12 are free.  The Grand's in-person and phone box offices are currently closed.
IF YOU GO:
What: The Grand Cinema at Bellevue State Park
When: Friday, October 2 at 8 p.m.: Pitch Perfect
Saturday, October 3 at 8 p.m.: Disney's Mary Poppins
Where: Bellevue State Park (Figure 8 Barn Parking Lot)
How much: $15 per person, per car. Children under 12 are free.
Ticket includes entrance to the movie, one bag of popcorn, and one drink per purchased ticket.
SAFETY AND SANITATION INFORMATION:
Social distancing measures will operate in accordance with Delaware guidelines:
Vehicles will be spaced approximately 6'-8' apart. Windows may remain open at this distance.
Cars will be parked in a manner to achieve at/or appropriate spacing and best visibility.
Restrooms will be available in the State Park facilities.
Patrons must remain in their vehicles during the duration of the film.
Face masks must be worn anytime you are outside your vehicle as you walk to the restrooms or concessions table.
There is no re-entry once your vehicle leaves the parking area.
In accordance with state guidelines, patrons will be asked to leave if they do not adhere to the rules and regulations.
ADDITIONAL INFORMATION:
Passenger vehicles only. No buses, party buses, limousines, bicycles, or foot traffic allowed. ADA accessible vehicles will be permitted.
All tickets are general admission and spots cannot be reserved.
There will be additional concessions available for purchase. Alcohol prohibited.
Attendees will be able to hear the movie via FM radio. Details will be provided on-site.
We discourage vehicles with more than four occupants.
No pets allowed.
State guidance on social distancing, public gatherings, and certain procedures and practices is subject to change.

Comments
comments