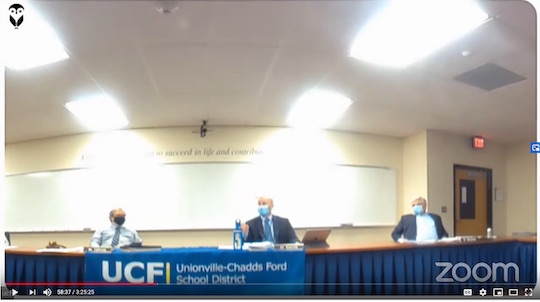 Just hours after residents rallied to have schools reopened at least on a hybrid basis, U-CF School Board directors voted to do just that. At least for grades K-5 who will start with a hybrid schedule on Oct. 12. The board will vote on what to do with grades 6-12 in October with an eye on bringing those students back with a hybrid plan on Oct. 26.
According to Superintendent of Schools John Sanville, the phased reopening of schools is possible because the Chester County Health Department reports an acceptable decrease in COVID-19 case numbers that make it safe to bring younger students back.

"The numbers support moving in this direction," Sanville said. "The Chester County Health Department recommends that the reopening of schools happens in a phased way beginning with the younger grades first…and districts should assess the reopening. In other words, is it working? Are people safe? Are people getting sick? Does it make sense to remain open? Does it make sense to expand the opening?"
It's that wait and assess recommendation that is delaying the opening for middle and high school students. There is a much lower risk of spread for students who are in elementary school, Sanville said.
The vote for bringing the younger students back to some level of brick and mortar education came after a vote on an updated Health and Safety Plan that may be found here. 
Approval for the plan was 9-0.
The phased reopening — beginning Oct. 12 — calls for K-5 students attending classes in school buildings for half days, five days per week. The other half-day, morning, or afternoon depending on the group, students will have asynchronous online classes. Assistant Superintendent of Schools John Nolen said families will be getting full details on the plan in the coming week.
"I believe this is the best hybrid plan we can do," said board President Jeff Hellrung before the vote. He added that there are reasons for holding off on bringing middle and high school students back to brick and mortar instruction.
Hellrung said the county Health department recommended beginning with the younger students, and that those in K-5 have "the greatest need for in-person instruction and will benefit the most from the hybrid plan."
Waiting to bring back the older students, he said, would allow the district more time in "managing the complexities and details that will be required."
Among the factors in determining whether or not to resume in-person instruction for the middle and high school is the need to keep the number of COVID cases low and accepting the recommended distancing of three to six feet, Hellrung said.
He then went on to say that — even if in-person instruction returns to all day every day — there will not be a return to normalcy unless and until there is a vaccine for the COVID-19 virus. But that the district will do everything it can to get the schools open by following all mitigation guidelines, "especially masking and avoiding large, extended indoor gatherings at close quarters and that we will support each other and get through this together."
The vote on whether to reopen for older students is on Oct.12.

Rich Schwartzman has been reporting on events in the greater Chadds Ford area since September 2001 when he became the founding editor of The Chadds Ford Post. In April 2009 he became managing editor of ChaddsFordLive. He is also an award-winning photographer.
Comments
comments