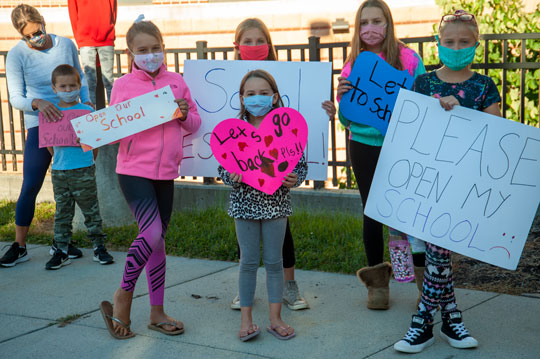 An estimated 50 people, parents and kids alike, rallied outside Unionville High School Monday evening, calling for the district to reopen schools for in-person learning. Parents said the virtual-only system is unfair and a disservice to the kids.
Kelsey McLean, of Pocopson Township, said: "Our kids need to get back into school. It's sad. It's really a disservice to all the kids. We just want the option to be able to send our kids back to school. If you want to keep your kid at home, I think that's fine, that's great. But if you want to send your kid to school and have them participate — we don't have that option."
She said having her 8-year-old son sit through six hours of Zoom classes "is like herding cats. It's insane. It's not fair to the kids; it's not fair to anyone."
East Marlborough's Kate Zale said her first-grader-son struggles by not being with other students in a regular classroom, even though he's attending the YMCA's learning center.
"We're trying to mimic school as best we can, but he has a lot of energy and not quite getting that out during the day. I asked him what he was learning on Zoom and his reply was, 'Nothing really.'"
She added that so much time in front of the computer might be affecting his eyesight. She has to get his eyes checked because he's suddenly having difficulty seeing far away.
"I think that's from looking the screen all day," Zale said.
Rally organizer Chris Brill, of East Marlborough, said he wants the school board to know that "The community is feeling the effects of a policy we disagree with. It's not right."
Lauren Henry, also of East Marlborough Township, said her two kids, one in elementary school and the other in middle school, are having an attitude change, and not a good one.
"Their love of school has disappeared," she said. "They're reluctant to log on and are getting headaches from being on screen all day. They're frustrated by not having a hands-on experience."
The rally began outside the district office at the high school, then moved to the entrance to the school's parking area on Route 82.
Unionville-Chadds Ford School Board directors initially voted to start the 2020-2021 school year with a hybrid system — part brick and mortar and part virtual — but changed their decision after the Chester County Health Department recommended opening with on-line education only. The board expects to re-evaluate and possibly return to a hybrid plan on Oct. 9.

Rich Schwartzman has been reporting on events in the greater Chadds Ford area since September 2001 when he became the founding editor of The Chadds Ford Post. In April 2009 he became managing editor of ChaddsFordLive. He is also an award-winning photographer.
Comments
comments