Pennsylvania State Police
Media Barracks
• A 69-year-old man from Concord Township was the apparent victim of identity theft earlier this month. The man told state police he received an email saying he purchased more than $6,000 worth of electronic equipment, including a 4K television and an Xbox console.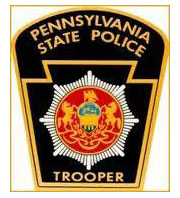 • According to a police report, Kenneth G. Reynolds, 81, of Lansdowne, was cited for his involvement in a two-vehicle crash on Route 1 at Conchester Road in Concord Township. The accident happened on Aug. 29 at 7:41 p.m. Police said Reynolds was northbound on Route 1 in a 2018 Cadillac STS when he shifted lanes from right to left into the path of another vehicle already in the left lane. He stopped for a red light giving the second vehicle no time to stop before that second vehicle struck his.
• Police said they arrested a 20-year-old woman from Reading for DUI in Chadds Ford Township on Sept. 7. The report did not identify the driver by name. According to the report, troopers conducted a traffic stop because the vehicle was being driven erratically. It was determined that the driver was under the influence of alcohol and a controlled substance.
• The Fine Wine and Good Spirits store (state store) on Route 202 was ripped off for a couple of bottles on Sept. 7. A police report said a white male took two bottles of Captain Morgan liquor. The suspect, 5'7" to 5'9" with sandy colored hair, was wearing a light blue shirt, dark shorts, and white shoes, and was observed fleeing in a gray car driven by a female driver.
• Police said Cody M. Taylor, 25, of Elverson, was cited following a one-car crash on Smithbridge Road in Chadds Ford on Sept.9. Police said he couldn't maintain his travel lane, struck a telephone pole, and then overturned. The accident happened at 8:05 a.m.
Avondale Barracks
• Police arrested two men, both from Kennett Square, for harassment on Sept. 12. The report said troopers were responding to a 911 hang-up call in the 800 block of Lisadell Drive in East Marlborough Township. The men were not named in the report but only identified by age. One is 50 years old, the other is 48.
• A 54-year-old woman from West Marlborough Township was ripped off for $600. A police report said the woman's bank account was compromised and used to buy various items.
• Police said a traffic stop for speeding led to the arrest of a 24-year-old woman for disorderly conduct. A report said Destiny Tucker, of Drexel Hill, became physically combative after she was stopped for excessive speed.
See Contributors Page http://chaddsfordlive.com/writers/
Comments
comments