UPDATE: See below
While voters in Chadds Ford Township will have a new polling place for the November election, Democrats in Concord Township are calling foul-play for their voting. The township has reportedly disallowed the use of ballot drop off boxes at polling places this year.
Township resident and activist Ken Hemphill said, "We're in the middle of a pandemic and we have a president who's trying to dismantle the postal service. Having a drop off box for mail-in ballots is an easy way for municipalities to ensure every vote gets counted."
Vineet Gupta, a poll worker in Concord, echoed Hemphill's comment: "We are in the middle of a pandemic, 20 percent of township residents and the majority of poll workers are over the age of 65. Having drop boxes will take out some of the foot traffic from the crowded polling locations on election day. Concord Township Council made the decision without any public comment."
The Concord and Bethel Democrats said Concord Republicans are "engaging in un-American vote suppression…For them to blame delays on incompetence or anything else is more evidence of how broken and dishonest the Republican Party under Trump has become. Democracy to them is an impediment, not a constitutionally enshrined American institution."
That message included what appears to be a screenshot from the township Republican Facebook page:

However, an attempt by Chadds Ford Live to verify the authenticity of the part of the message was met with an error message: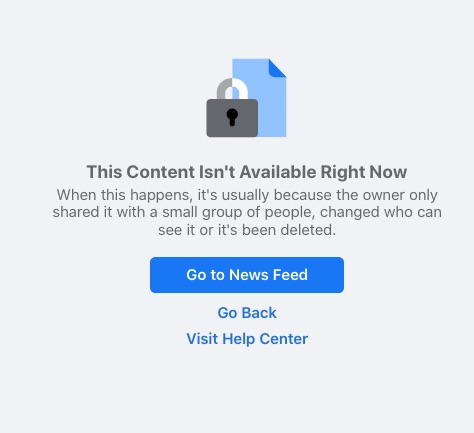 Gupta said Concord Republicans posted the comment about rejecting the boxes on Thursday night but later withdrew the comment.
Democrats are speculating that the decision was made during an executive session after last week's Township Council meeting. However, Pennsylvania's Sunshine Act precludes an executive session for such a reason. The act limits executive sessions to matters involving litigation, hiring and firing of employees, and the sale or purchase of real estate.
The act also makes allowances for a closed session if information discussed would violate protected confidentiality and for educational institutions to discuss matters of academic admission.
Chadds Ford Live also made attempts to learn who, when, and where the decision was made. Neither an email to the township manager nor a phone message left for Council President Dominic Pileggi were answered prior to press time.
As for Chadds Ford Township residents, those wanting to vote in person will be going to the former beer distributor building in Painters Crossing shopping center across the parking lot from Nudy's.
UPDATE:
More than 24 hours after Chadds Ford Live requested clarification and more information, Concord Township sent out a press release saying there had been no executive session on the matter. The release said the board simply took no action. Here is the full release:
"On Aug. 25 the Delaware County Board of Elections presented Concord Township with a request and a license agreement for the placement of a ballot box on Township property for the receipt of mail-in and absentee ballots outside the US Postal Service. The license agreement provided for ballot box placement for a period of five years together with other conditions.
"The Interim Director of Elections requested that the license agreement be returned on or before September 9th. Concord Township Council took no action at the September 1st public meeting on this request. The Delaware County Board of Elections was informed on September 2nd that the Township would not participate in this program and installation of a ballot box as no action had been taken on the license agreement at the public meeting. No Executive Session was held to discuss this matter.
"Registered voters will be able to vote at the polls on election day. Additionally, "no excuse" mail-in voting is now permitted. That is, any registered voter can apply now for a mail-in ballot and mail the completed ballot in a self-addressed pre-paid envelope to the County for tabulation. It is expected that the Delaware County Board of Elections will send out requested ballots in early October via US Postal Service. More information regarding this process is available on the County's website.
"Concord Township is proud of its history of assisting the County Election Board in the election process. Over the years, the Township has taken on the task of performing and paying for the required studies to allow for an increase in the number of voting precincts from 4 to 11 as well as assisting in finding locations for those precincts, along with setup and other services. Any implication that Township Council is subverting the election process is untrue and unfounded.
We urge our citizens to exercise their right to vote, either in person at the polls on election day or by mail-in ballot via the US Postal Service."
END UPDATE

Rich Schwartzman has been reporting on events in the greater Chadds Ford area since September 2001 when he became the founding editor of The Chadds Ford Post. In April 2009 he became managing editor of ChaddsFordLive. He is also an award-winning photographer.
Comments
comments