PennDOT and the Pennsylvania State Police are reminding motorists to travel responsibly ahead of the Labor Day holiday. During the 2019 Labor Day holiday enforcement period, troopers made 610 DUI arrests and investigated 45 crashes in which alcohol was a factor. According to PennDOT data, in 2019, there were 2,995 crashes resulting in 46 fatalities statewide over the holiday week from Friday, Aug. 30 through Sunday, Sept. 8. Of the total fatalities, 19 were alcohol-related, and three were drug-related.
Pennsylvania State Police
Media Barracks
• State police from the Media Criminal Investigation Unit are investigating a homicide in Concord Township. They identified the victim as Theodore Frederick Field, 22, of Glen Mills. According to the report, state police learned of a shooting on Spring Lawn Road. Field was shot once in the abdomen and taken to Paoli Hospital, where he died from the injuries. The shooting took place on Aug. 23 at approximately 6 p.m.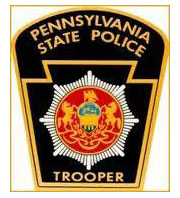 • A 27-year-old man from Chadds Ford was the victim of identity theft, a police report said. His identity was used to open a Target Store credit card and to rent a vehicle in Arizona.
• Police said they'd be further investigating and filing charges following an harassment incident involving a 33 year-old-man from Aston and a 61-year-old man from Chadds Ford at the Kohl's store in Middletown Township on Aug. 28. A report said there had been a crash at the store entrance and that the driver of the striking vehicle — the Aston resident — had shoved the other driver causing him to fall.
• Police arrested a 27-year-old man from Philadelphia on harassment charges following an incident with a Glen Mills woman on Aug. 20 in Concord Township. No details of the incident were released.
Avondale Barracks
• Police arrested two 22-year-old men from Linwood on drug charges following a traffic stop on Cossart Road near Stockford Road in Pennsbury Township on Aug. 23. Details weren't given, only that police made the stop for vehicle code violations and that a probable cause search revealed marijuana and paraphernalia. The incident happened at 11:49 p.m.
• Cherlyn L. Clark, 37, of Wilmington, was cited for failing to clear the intersection of Route 926 and Parkerville Road properly on Aug. 11 at 9:35 a.m. She was also taken to Jennersville Hospital for treatment of suspected injuries, police said. According to the report, Clark was driving north on Parkerville, stopped at the stop sign, but failed to clear the intersection when she was struck by a vehicle having the right of way traveling east on 926.
• State police arrested two men from Lincoln University on drug charges following a traffic stop in West Marlborough Township on Aug. 8. Police gave no reason for the stop, nor did they identify either man by name, but one is 63 years old and the other is 64. According to the report, a trooper stopped the 2015 Ram 1500 on Doe Run Road south of N. Chatham Road at 4:50 p.m. When the trooper approached the vehicle, the report said, he could smell the aroma of marijuana coming from the truck's cabin. A probable cause search revealed crack cocaine and paraphernalia.
• A 33-year-old man from Coatesville was arrested for drug possession while waiting for a ride at the East Marlborough Township Wawa on Aug. 1. A police report said troopers noticed a minivan parked in the lot with the driver — not named in the report — standing by waiting for a ride at 1:48 a.m. because the van was stranded. While talking with the driver, marijuana could be smelled. A search revealed marijuana and paraphernalia.

See Contributors Page http://chaddsfordlive.com/writers/
Comments
comments