• The Chadds Ford Historical Society will hold a drive-through bread sale on Saturday, Sept. 5, from 10 a.m. to 5 p.m. People looking forward to the bread baked in the beehive oven of the John Chad will be able to drive in and drive out and purchase eight types of bread that we bake in our historic house. All while keeping your distance. First come, first served and available while supplies last. French bread, herb, herb and onion, cranberry thyme, country crust, orange cranberry, cinnamon dot, cinnamon raisin.
• The Chadds Ford Historical Society and the Kennett Heritage Center will recreate The Occupation of Kennett Square by the British Army on Sept. 10. The reenactment will take place in the streets and taverns. Gens. Howe and Cornwallis will deliver the detailed battle plans for the next day, the Battle of Brandywine. Hear first-hand accounts of local townspeople who describe the events they witnessed and the hardships endured. Learn more at https://kennettoccupationday.com/
• A reminder from the Chester County Art Association that CCAA will be closed through Labor Day, Sept. 7, but is now accepting registrations for September workshops and classes. Adult classes include a two-week class entitled Watercolor: Starting up, with Wendy Scheirer, and a one-day workshop with EO Omwake on Mastering Color. For youngster 8-12 years of age, there's a three-week class called Drawing and Painting with Kathy Miller. There will also be a two-day plein air workshop for adults and teens. For information and to register, go here.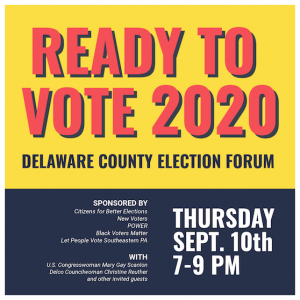 • A Delaware County election forum discussing Pennsylvania's election code changes is set for 7 p.m. on Thursday, Sept. 10. Ready to Vote 2020 is a virtual presentation with US Rep. Mary Gay Scanlon, state Rep. Margo Davidson, Delaware County Councilwoman Christine Reuther, and other invited officials. Topics will include voting in-person and by mail-in/absentee, DelCo's new paper ballot and voting machines, PPE/safety measures at your polling place, how to volunteer on election day, and more. Go here to register.https://www.eventbrite.com/e/ready-to-vote-2020-delco-election-forum-tickets-116966645385
• PAWS for People, the Newark-based pet therapy organization, will hold its annual Wag & Walkathon, Sept. 17 – Oct. 17. This year, due to COVID-19 restrictions, the entire event will be completely virtual from start to finish, including Facebook Live Step Off & Cross the Finish Line Celebrations and lots of fun activities in between. The cumulative marathon concept lets competitors log in their 26.2 miles anytime, at their own pace, throughout the month. The event will feature a month of online contests and challenges as well as virtual vendors. Doggie contests will include cutest pet photo, funniest pet video, best trick video, and more; The Walkathon will include contests in the areas of mileage tracking, fundraising, and team-building. The registration fee for the Wag & Walkathon is $20 for adults (13 and over) and $10 for children (12 and under). To register or for details, visit www.pawsforpeople.org/walkathon or call 302-351-5622.

See Contributors Page https://chaddsfordlive.com/writers/
Comments
comments