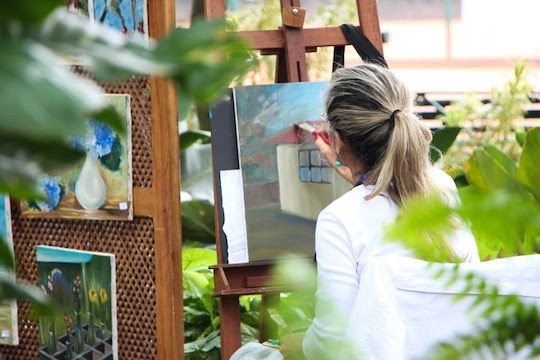 • The Chester County Art Association is offering a plein air workshop on Tuesday, Aug. 4, from 6-8 p.m. The cost is $25 for members, $35 for non-members. The instructor is Kathy Miller. This is an intermediate to advanced level workshop. Students need to bring their own supplies and use their choice of medium(s) to capture the local landscape with the instructor's assistance and demonstrations as needed. It will be held at Everhart Park in West Chester and is considered to be at an intermediate or advanced level. All plein air event participants must follow state-issued health and safety guidelines like observing the six-foot rule and wearing a mask. Rain Date: Tuesday, Aug. 11. Go here to register.
• Every Wednesday in August, from 3-4 p.m., Chester County History Center Educator Lindsay Campellone is hosting History at Home Summer Camp. The camp is designed for children 5-8 years old and features singing, dancing, crafting, and storytime. Have fun while learning local history, getting active, and being creative. Weekly themes include botany, flowers, and plants on week one, Women's Vote Centennial on week two, the Lenape tribe on week three, and painting with Pippin on week four. More information will be emailed once the child is registered. To register, go here.
• The Delaware County Chamber of Commerce announced its first-ever Virtual Women in Leadership webinar focusing on Managing and Prospering through Change. The chamber invites the local business community to attend the webinar and learn from a panel of professional women who have persevered through various obstacles in their careers, the management techniques they relied on and how they have applied or modified them through the constantly evolving climate. The event is noon, Wednesday, Aug. 5. Registration is free for chamber members and $15.00 to non-members. Register to attend at www.DelcoChamber.org/wil2020.
• As school districts grapple with how to educate children safely in light of COVID-19, the YMCA of Greater Brandywine a leading non-profit organization committed to strengthening the Chester County community has announced that it will open learning centers with small staff-to-student ratios to support families when the school year begins. Registration opens Friday, July 31 for the five-day program. Students will have dedicated academic support to successfully complete their schoolwork. Each group of 12 students will be supervised by a YGBW staff member and a degreed teacher or educational specialist will be available for every two groups, ensuring a staff-to-student ratio of 1:8. Financial assistance is available. For more information, visit https://ymcagbw.org/learning-centers.
• The Chester County Community Foundation is now accepting applications for the 2020 – 2021 Peer Learning Circles. The Circles are designed for individuals in the nonprofit executive director, nonprofit development manager, and planned giving professional fields. A skilled facilitator with extensive knowledge of the nonprofit sector will manage the process and discussion for each Peer Learning Circle. Groups are confidential, supportive, and focused on learning and action. The cost for the eight session-peer learning circle is $200 for the year. Please visit www.chescocf.org or call 610- 696-8211 for the details or to apply.

See Contributors Page https://chaddsfordlive.com/writers/
Comments
comments