Pennsylvania State Police
Avondale Barracks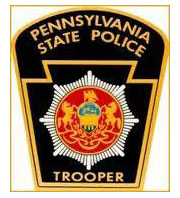 • Police said they arrested Victoria Wiseman-Blum, 22, of New Castle, for drug possession. The release said troopers were making a welfare check on a person seated in a vehicle parked in a lot on W. Cypress Street in New Garden Township at 10:09 a.m. on July 1. Police found the occupant had paraphernalia and a small amount of marijuana, the report said.
• State police from the Avondale barracks said they cited David G. Unger, 35, of Landenberg for his involvement in a two-vehicle crash in Pocopson Township. Details of the incident were not included in the report, but the accident happened at 8:10 a.m. on Lenape Road near Ballintree Lane on July 8. Police reported no injuries.
• State police are investigating a theft from the Walmart in East Marlborough Township on June 23. Suspects were not identified or fully described. The police report said only that an employee reported two females were leaving the store without paying for their merchandise. When confronted, the report continued, the two women fled with the merchandise in a silver Toyota sedan with Maryland tags.
• A 26-year-old Lincoln University woman was arrested for drug possession on Route 1 in East Marlborough Township on July 25. Police did not identify the woman but said the suspect was a passenger in a car pulled over during a traffic stop. Police did not give the reason for the stop.
• State police arrested two people, a 31-year-old woman from Newark, and a 28-year-old man from New Castle, in East Marlborough Township. Neither person was identified in the report, which said that police were called to a location on Longwood Road for a report of an assault in progress. One person was cited for harassment and the other for disorderly conduct. The incident happened on July 18 at 7:08 p.m.

See Contributors Page https://chaddsfordlive.com/writers/
Comments
comments