Delaware County commissioners, the director of emergency services, and the Chester County Department of Health director gave an update on the county's ability to deal with the COVID-19 pandemic. The Coronavirus is spreading, but county hospitals are coping without strain. However, Council Chairman Brian Zidek said the state is reporting 14,559 confirmed cases with 240 deaths, and Delaware County has 898 cases with 20 dead.
"The rise in deaths and cases in our community reflects the urgent need for residents to stay at home unless it's necessary for work or essentials such as grocery shopping and practice social distancing of at least six feet both indoors and outside. [Also] wear a cloth mask when you leave your home," he said.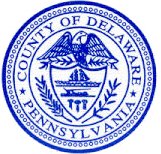 Jeanne Casner, the director of Chester County's Department of Health, mostly restated her comments from a similar Chester County press conference the day before. Chester County is assisting Delaware County since it has no health department of its own.
As she said a day earlier, Casner said there is community spread of the virus. That means people are becoming infected without knowing how. She said that indicates people are spreading the illness without knowing it.
Casner stressed the need to continue social distancing and to wear masks to help slow the spread. While the masks won't keep the wearer from getting sick, they will help prevent the wearer from spreading the virus. People can carry the Coronavirus without symptoms and still be contagious.
Also speaking was Tim Boyce, the director of emergency services for Delaware County. Boyce said county hospitals are not under any undue stress at this time.
"The hospitals are doing OK," he said. "There are open beds. All of our hospitals are also planning for surge capacity, but there are no unmet needs."
He added that there is an adequate number of ventilators. Also, he said, there have been no patients moved to the Glen Mills facility that was transformed into a military field hospital on March 28 to handle low acuity, non-corona related cases. Boyce did say, however, there's an anticipated surge of cases sometime between April 18 and 20.
"The Glen Mills facility should be looked at as a what-if things really turn bad situation. We're not in that position right now. Our hospitals are good," he said. "We're doing OK; we do have enough ventilators."
Councilwoman Christine Reuther said the county is looking to possibly move some polling places before the rescheduled June 2 primary election. She said there's talk of moving polling places out of senior living facilities that serve non-residents, senior centers, and public-school buildings. Currently, 28 public schools serve 114 voting precincts in the county.
There may also be a shortage of poll workers because many are senior citizens who may decide not to work the polls this year if the virus is still circulating. While the county will look to get replacements, Reuther said people should consider voting by mail.
"This is the first year in which every voter in Pennsylvania, without excuse, can choose to vote by mail. You can fill in the application online at www.votespa.com," she said.
Councilwoman Elaine Schaefer mentioned several resources available to the business community. She said 1.1 million people in Pennsylvania have been laid off or furloughed because of the pandemic.
"The good news is that over half of those people have already been processed and are receiving their checks. [The state] is working overtime to make sure the rest get their checks out quickly," Schaefer said.
She added that as part of the recently passed federal CARES Act, those who've lost their jobs would get an additional $600 on top of what the state gives them.
She also said there are several programs for businesses that can help them get by. There is a Paycheck Protection Program for companies that have 500 employees or less. Companies would apply for that through their bank. It covers two-and-a-half months of payroll and rent.
"The bonus is, if you make it through to the fall without firing anyone, it's a forgivable loan, so it turns into a grant," Schaefer explained.
There is also an Economic Injury Disaster loan at a low-interest rate, she said.
Very small companies, those with fewer than 100 employees, may apply for a Covered Working Capital Access Program.
For more information on those, go to the county website, delcopa.org, and fill out the application.
See Contributors Page http://chaddsfordlive.com/writers/
Comments
comments