Pennsylvania State Police
Media Barracks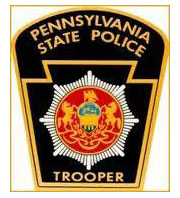 • A motorcyclist from Havertown was injured in a two-vehicle crash in Chadds Ford on March 14. He was also cited for his involvement in the accident that happened 12:16 p.m. on Route 202 at Marshall Road. Police said Wesley J. McMullen, 63, rode the Harley Davidson Springer he was operating into an Infinity Q40 while moving into a left turn lane. The bike fell onto its right side and slid, police said, and McMullen was transported to Riddle Hospital. There were no other injuries.
• Charlene R. DiMarco, 36, of Marcus Hook, was cited for following too closely following a March 16 accident at the intersection of Route 202 and Naamans Creek Road, a police report said. The accident happened at 8:36 a.m. According to the report, DiMarco struck another vehicle from behind as it was stopped for the traffic light. No injuries were reported.
• A 26-year-old man from Wilmington, Michael E. Alfaro, was cited after making a U-turn and striking an oncoming vehicle on Route 202 at Route 1 on March 11, a police report said. The accident happened at 11:42 p.m.
• Police said Gregory A. Lambert, 36, of West Grove, was cited after driving through a red light and crashing into another vehicle on Baltimore Pike at Stoney Bank Road in Concord Township on Feb. 25. No injuries were reported from the accident that happened at 5:19 p.m.
Avondale Barracks
• Jennifer L. Giunta, 49, of Douglassville, was injured when her vehicle struck a downed tree on Doe Run Road in West Marlborough Township. Police said she struck the tree after disregarding a road closure sign. The road was closed because of the downed tree. She was cited for failing to obey the road sign and transported to Brandywine Hospital. The accident happened at 6 a.m.
• Police said speeding was the cause of a one-vehicle accident in Pocopson Township on March 13 and identified the driver as Samuel A. Nazario, 20, of West Grove. The police report said Nazario was driving south on N. Wawaset Road, near Carolannes Way, and went off the road while trying to negotiate a right-hand turn. The vehicle, a Jeep Cherokee, struck a berm and rolled onto its roof.
• Two people, a 32-year-old woman and a 37-year-old man, both from Toughkenamon but unidentified in the police report, were arrested for retail theft on Feb. 28. The pair are accused of stealing almost $300 worth of cosmetics and clothing from the Walmart in East Marlborough Township.
• Police said they arrested a 25-year-old man from Lancaster after he became combative during a traffic stop in East Marlborough Township on March 7. The man was not named in the report. Police said they made the stop after observing several traffic violations.
• Karol Montalvo-Hernandez, 39, of Greenbelt, Md., was arrested for stealing an Amazon package from a doorstep on Fairville Road in Pennsbury Township on Feb. 18, a police report said.
See Contributors Page http://chaddsfordlive.com/writers/
Comments
comments