Pennsylvania State Police
Media Barracks
• Police said two 13-year-olds from Garnet Valley — a boy and a girl — were arrested on March 5 for the transmission of sexually explicit images. Both were named as victims and arrestees.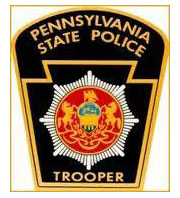 • Raynor I. Brown, 30, of Philadelphia, was cited for following too closely following a March 5 rear-ender crash on Route 202 near Oakland Road in Chadds Ford Township. No one was injured in the two-car accident.
• State police are investigating the reported theft of credit cards and money from a wallet at the Main Line Health Fitness Center in Concord Township. The theft took place on Feb. 24.
• Nicholas W. Scull, 38, of Chadds Ford, was cited for running a red on Route 1 and Brandywine Drive on Feb. 25, a police report said. According to the report, Scull's vehicle was struck by a car driving through the intersection with a green light.
• A West Chester woman faces DUI charges after she stopped at Wawa. Police said they were dispatched to the Wawa on Route 202 in Chadds Ford for a report of a woman who drove to the shop intoxicated. Police identified the woman as Jennifer Manieri, 41.
• Police said they arrested two Delaware men on retail theft charges on March 8. Police identified the two as Gregory Jackson, 45, and Kevin Hunter, 52, both of Wilmington. The pair are accused of shoplifting at the Wawa on Naamans Creek Road.
• Matina Johnson, 30, of Darby, was arrested for DUI in Chadds Ford on Feb. 25, a police report said. A traffic stop was made, the report said, after police observed summary traffic violations and it was determined she had been driving under the influence.
• A Media man was arrested for DUI on Baltimore Pike and Conchester Road in Concord Township on Feb. 23. Police identified the driver as 48-year-old Franklin Lee. The report said troopers found the man asleep at the wheel of a running vehicle.
Avondale Barracks
• State police are investigating the reported theft of a tree stand seat and support straps from a location on Pierce Lane in Pocopson Township sometime between Jan. 24 and Feb. 3.
• Police arrested a 20-year-old woman from Kennett Square, not named in the report, on drug possession charges. The arrest was made 12:14 a.m. on March 10. Police said they made a traffic stop at McFarlan Road and Perrone Lane in Kennett Township and observed paraphernalia in plain view and that the driver admitted to possessing marijuana.
• Troopers said they arrested a 22-year-old man from Philadelphia, not named in the report, for DUI at E. Baltimore Pike at Bayard Road in East Marlborough Township on Feb. 17. According to the report, a traffic stop was made because a taillight was out. After troopers approached the car, they said they smelled marijuana. The driver admitted to smoking some, police said, and that some was found in the car.
See Contributors Page http://chaddsfordlive.com/writers/
Comments
comments