Pennsylvania State Police
Troop K, Media barracks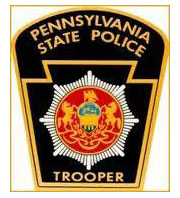 • State police arrested five teenagers on drug charges following a Feb. 9 traffic stop on Route 202 at Naamans Creek Road. Police said they stopped the vehicle for multiple traffic violations. The driver was determined to be DUI of alcohol and a controlled substance. The passengers were arrested for marijuana possession. All five were processed and released.
• Police said a $700 laptop and $55 noise-canceling headphones were stolen from a car parked on Darlington Road in Concord Township sometime between Jan. 25 and 27.
Troop J, Avondale barracks
• A 20-year-old woman from Lawrenceville, N.J., not named in the report, was arrested on drug charges in Kennett Township on Jan. 31. According to police, the suspect was observed driving at 80 mph on Route 1 and weaving in and out of traffic. After stopping the vehicle, police determined the driver was in possession of a small amount of marijuana.
• Amir Miller, 27, of Newark, was cited for excessive speed following a one-vehicle accident on S. Wawaset Road in Pocopson Township on Feb. 7, police said. According to the report, Miller was driving too fast to negotiate a curve south of Wawaset Farm Lane at 11:12 a.m. He lost control, police said, ran off the roadway, struck a utility pole, came back to the road but crossing to the other side and slid down an embankment into a ravine. No injury was reported.
• Police are investigating a theft of service claim in Pennsbury Township. A 43-year-old resident on Fern Hill Road said he paid a $6,000 down payment to a contractor for repair work in October but no work has yet been done.
• Police are investigating a Jan. 15 retail theft at the East Marlborough Township Walmart. A report said a woman used $540 in counterfeit bills to buy five items.
• Tianna Gomez-Stewart, 20, of Kennett Square, was arrested for retail theft on Feb. 6, police said. She is accused of stealing $22.80 worth of food products.
• A salon owner in Pennsbury Township reported that sometime between Aug. 1 of 2019 and Jan. 22, seven salon chairs went missing. Police are investigating.
• Police said they arrested Mark Rodgers, 43, of Chesapeake, Md., on retail theft charges. A report said Rodgers was taken into custody without incident after responding to a theft in progress. He was allegedly trying to steal nine items valued at more than $1,000 from the Walmart in East Marlborough Township on Dec. 24.
Southern Chester County Regional Police
Luis Miguel Acosta-Espinoza, 22, of Kennett Square, was arrested and charged with 12 counts each of involuntary deviate sexual intercourse, unlawful contact with minor, statutory sexual assault, corruption of minors, indecent assault, and indecent exposure, police said. The arrest came as a result of an incident that occurred on Jan. 16 in New Garden Township. According to the report, police were called to the scene, after the father of a 15-year-old female came home to find the vehicle of an adult male, whom he suspected of spending time with his daughter, parked in the lot near his apartment. When officers opened the door, they found Acosta-Espinoza laying completely naked on the living room floor, next to the clothed 15-year-old. He was immediately taken into custody and was transported to SCCRPD HQ. Through additional investigation, it was determined that Acosta-Espinoza and the victim met through social media and that he was aware of her age. It was also determined that Acosta-Espinoza and the victim had a dozen sexual encounters beginning in the summer of 2019 when the victim was only 14 years old. Acosta-Espinoza was transported to Central Booking where he was processed and held for arraignment. He was committed to the Chester County Prison on $1,000,000.00 bail, where he remains pending a preliminary hearing.
See Contributors Page http://chaddsfordlive.com/writers/
Comments
comments