Pennsylvania State Police
Troop K, Media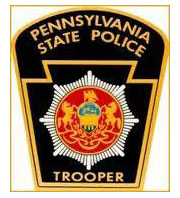 • Police are investigating the report of a stolen car. A 27-year-old woman from Sharon Hill had her black Ford Fusion parked on Walters Road in Concord Township sometime between midnight and 6 a.m. on Jan. 27 According to the report, the car was left unlocked with an extra set of keys in the vehicle. The license plate on the Fusion is Pennsylvania JLY5849.
• An unidentified driver was cited for driving too fast following a rear-ender accident on Route 202 at Spring Hill Road on Jan 27. Police said the cited driver told them he had taken his eye off the road to look at two other vehicles that had been in an accident and that he couldn't stop in time before striking the car in front that was stopped for the light. No injuries were reported.
• Police said they arrested Mary Rice, 41, of Linwood, for DUI after a Jan. 12, single-vehicle crash on Conchester Highway near Featherbed Lane. The 2015 Hyundai Elantra crashed into a construction site. When troopers arrived on the scene, the report said, Rice was in the driver's seat and found to be under the influence of alcohol and a controlled substance.
• A 93-year-old man was cited for excessive speed on Jan. 24. Police said Theodore W. Hissey, of Glen Mills, was leaving a dry cleaner's on Byers Road in Concord Township a little before 3 p.m. when the Dodge Magnum he was driving accelerated, crashed into a curb and went airborne in front of the Outback Steakhouse. The vehicle then crashed in the restaurant's walkway, taking out part of the walkway, railings and landscape. The Dodge came to rest after hitting a green PECO switching module. Hissey was not injured, police said.
• Police arrested a 32-year-old man from Philadelphia for disorderly conduct at the Texas Roadhouse on Jan. 23. No other details were released.
• Police are investigating the passing of a counterfeit $100 bill at Wegmans on Jan. 22. The bogus bill was used to buy a beverage valued at $2.49. Two men, not described in the report, were seen getting into the passenger side of a white 2016 Nissan Sentra sedan leaving the scene.
• A 29-year-old from New Castle, Del. was arrested on DUI charges in Concord Township on Jan. 18. The report did not name the suspect but said the incident happened on Route 1 at Brinton Lake Road. Troopers said they made the traffic stop after observing vehicle code violations. The driver was determined to be DUI and incapable of driving safely.
• Someone stole a pair of Apple Air Pods Pro from a juvenile victim on Jan. 17 on Smithbridge Road. Anyone with information is asked to contact Tpr. Jacquette at 484-840-1000 or email Bjacquette@pa.gov.
• Robert Durandis, 29, of Philadelphia, was arrested for DUI following a suspicious beer order in Concord Township on Jan. 18, police said. According to the report, police were called to D&I Beverages after the store received a telephone order for 40 cases of beer paid for with two credit cards. Durandis arrived the following day and the business owner called the police thinking the order was fraudulent. The report went on to say that investigation led to the determination that Durandis was DUI.
• Police are investigating the reported theft of $531 from a classroom at Garnet Valley High School. The money was taken sometime between Jan. 6 and 10. The teacher reported the theft to his supervisor who contacted police on Jan. 13, the report said.
• Gabriella Ward, 22, of Coatesville, was arrested for DUI in Concord Township on Dec. 28, a police report said. Police said Ward was stopped for vehicle violations at 3:38 a.m. on Naamans Creek Road at Route 202 for vehicle violations and discovered her to be under the influence of alcohol.
Troop J, Avondale
• Police from the Avondale barracks responded to a domestic dispute between a mother and son in East Marlborough Township on Dec. 30. The 16-year-old was detained and charged.
• A 31-year-old woman was arrested for retail theft after she was discovered under-ringing merchandise in the self-checkout line at the Walmart in East Marlborough Township. The arrest date was Jan. 25; the suspect was not named in the report.
• Police said a 22-year-old man from West Grove was arrested on drug charges following a traffic stop in Pennsbury Township on Dec. 26. The suspect, not named in the release, was observed committing a traffic violation on Route 1 at Constitution Drive, the report said and was stopped at Creek Road. Police said they smelled marijuana and saw signs of impairment. A probable cause search yielded a small amount of cannabis and the driver submitted to a field sobriety test which confirmed impairment.
• A 54-year-old man from Kennett Square, not named in the report, allegedly threw eggs at state police troopers who were responding to a criminal mischief report in Pocopson Township on Dec. 21. The incident took place at 2:13 a.m. on Osborne Circle. No other details were released.
Kennett Township Police
The Kennett Township Police Department currently holds two arrest warrants for William "Billy" O'Donnell stemming from two separate incidents. In October 2019, the KTPD received notice that a 1-year-old child, in O'Donnell's care had been hospitalized after ingesting a controlled substance. An investigation was conducted and O'Donnell was charged with endangering the welfare of a child. In December 2019, the KTPD received a report alleging that O'Donnell intentionally inflicted severe damages to the personal property of another, at a residence on Carlton Drive. An investigation was conducted, and O'Donnell was charged with criminal mischief, theft by unlawful taking, and receiving stolen property. The attached photograph was taken in June 2019 however, O'Donnell has since shaved off his hair. If anyone has any information concerning the whereabouts of O'Donnell, please contact the KTPD at 610-388-2874.
See Contributors Page http://chaddsfordlive.com/writers/
Comments
comments