Pennsylvania State Police
Troop K Media
• A 69-year-old woman from Garnet Valley was transported for injuries as well as cited for careless driving following a parking lot accident at 10:26 a.m. on Jan. 2. Police said the driver, identified as Karen A. Bunn, drove a 2015 Toyota Camry into a shed in the Duffers Pub parking lot on Route 1 in Concord Township.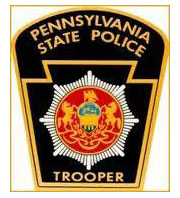 • Police from the Media barracks are investigating the theft of more than $2,000 worth of merchandise from Victoria's Secret in Concord Township on Jan. 4.
• An 84-year-old woman was the victim of theft when an unknown person stole a wallet from her purse. The victim later learned that her American Express Card was used to make a fraudulent charge of $4,598 in Wilmington. Also in the wallet were two other credit cards, a driver's license and $100 in cash. The theft took place on Dec. 17 in Concord Township.
• Police said Mark Nemeth, 32, of Lancaster, was arrested for DUI on Route 202 in Chadds Ford on Dec. 23. According to the report, Nemeth had abandoned his vehicle in the turn lane of 202 at Marshall Road. Police determined he was DUI after they located him.
Troop J Avondale
• State police from Troop J, Avondale barracks, said they arrested Lauren Costa — no age or municipality mentioned — for drug possession following a traffic stop on Route 926 at Newark Road in West Marlborough Township on Jan. 3. The report said a trooper noticed a hypodermic needle protruding from Costa's coat pocket. The resulting search revealed suspected heroin/fentanyl and paraphernalia.
• One driver was injured, and another motorist was charged with careless driving following a two-vehicle crash in East Marlborough Township Saturday, Jan. 11. The accident happened 1:39 p.m. at Route 926 and N. Walnut Road. A police report said the offending motorist made a left turn onto 926 into the path of an oncoming vehicle. The injured driver, a 44-year-old woman from Coatesville, was transported to the hospital for treatment.
• Police arrested a 22-yar-old from West Grove for drug possession in Pennsbury Township on Dec. 26. The arrest was made following a traffic stop for vehicle code violations, a report said. That report said the trooper smelled marijuana when he made contact with the driver. A probable cause search led to the discovery of a small amount of marijuana and paraphernalia.
• A 36-year-old West Marlborough Township man was arrested on harassment charges on Jan. 8. Police said the man, not named in the report, forced his way into his own home after his wife locked him out. The couple then had an altercation. No injuries were reported.
• State police from the Avondale barracks said Zachary L. Milan, 19, of Landenberg, was arrested for DUI following a one-vehicle accident on Chatham Road in West Marlborough Township on Jan. 3. The report said Milan was driving too fast for conditions, left the roadway and struck a guide rail. Police said they determined him to be driving under the influence of both alcohol and narcotics.
• Police from the Avondale barracks are investigating a Dec. 10 case of "coupon fraud" at Walmart in East Marlborough Township. An unidentified woman used coupons to buy items for which the coupons were not intended.

See Contributors Page https://chaddsfordlive.com/writers/
Comments
comments