Pennsylvania State Police
• Pennsylvania State Police arrested a 21-year-old employee of the Target store in Concord Township for theft. According to the report, the unidentified employee could be seen on surveillance video opening packages and putting items down his pants. The value of the stolen items is valued at more than $700.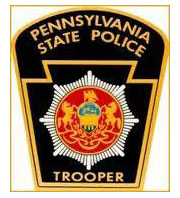 • Police said Lilian Connelly, 21, of Chadds Ford, was arrested for DUI on Dec. 23. A report said police stopped Connelly in the 1400 block of Route 1 in Chadds Ford Township for numerous traffic violations.
• A police report said two people stole multiple cases of Red Bull from the Wawa on Naamans Creek Road on Dec. 22. Police are investigating.
• Police said Aaliyah Jackson, 20, of Upper Chichester Township, was arrested for DUI in Concord Township on Dec. 21. A report said troopers responded to a call about an erratic driver who failed to stop at a stop sign, struck a guide rail and drove on the center island on Route 1, and found Jackson had been driving under the influence of alcohol.
• A 35-year-old man was arrested on theft charges after passing a counterfeit $100 bill at the Fresh Market in the Shoppes at Brinton Lake. Troopers were already in the area, the report said and were able to locate the suspect and take him into custody. The incident happened on Dec. 17.
• State police are investigating a theft of more than $900 in merchandise from Victoria's Secret in Concord Township on Dec. 16. A report said three women were involved and they left the area in a silver Mitsubishi with Delaware tags.
• Police are also investigating the theft of a Marlin .22 rifle and ammunition from a storage unit in Painters Crossing. The theft occurred sometime between June 1 and Dec. 17.
• Police said Juan G. Peralta, 57, of Wilmington, was cited after he struck another vehicle he was attempting to pass. The accident happened on Conchester Highway east of the intersection with Evergreen Drive in Concord Township. No injuries were reported.
• Cecilia C. Conte, 80, of Chadds Ford, was cited following a one-vehicle accident in Concord Township on Dec. 15. Police said Conte was driving a 2015 Nissan Juke eastbound on Spring Valley Road when she failed to negotiate a right-hand turn onto Temple Road and struck a curb at 12:27 p.m.
• State police said Jonathan Diaz, 38, of Philadelphia, was arrested for DUI after he flagged down troopers complaining of a rapid heartbeat and an inability to stand. While waiting for an ambulance, the report said, Diaz admitted to taking Trazodone,  a drug not prescribed for him before driving. The incident happened at 8:47 a.m. on Dec. 5 on Route 1 in Concord Township. He was taken to Riddle Hospital where he was released to hospital staff after being informed of his arrest.
• Police are investigating a theft at the Five and Below store in the Concordville Town Centre. Someone stole $171 shortly before 4 p.m. on Dec. 6. The report said the suspect, not identified in the report, is known.
• A four-vehicle crash on Route 202 near Watkin Avenue led to one driver being cited for speed and transported for treatment of injuries. Police said Drew R. Mervin, 32, of West Chester, was traveling too fast and couldn't stop before striking the vehicle in front of him. The domino-effect rear-ender led to Mervin and one other driver being taken to the hospital while a third driver refused EMS treatment. The fourth driver was not injured. The accident happened at 3:38 p.m. on Dec. 7.

See Contributors Page http://chaddsfordlive.com/writers/
Comments
comments