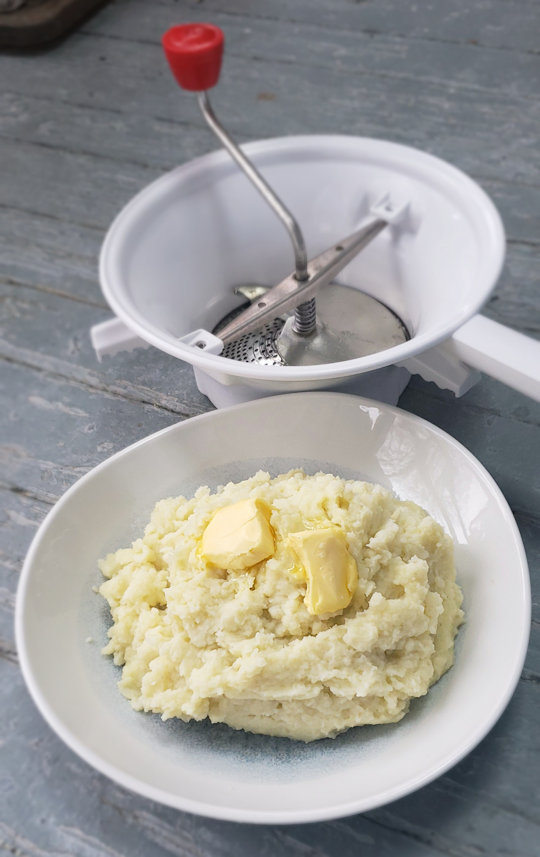 It is a staple and a must have during the Holiday season. The creamy, buttery, smooth homemade mashed potatoes are everyone's favorite side dish for Thanksgiving dinner. It is best when a rich homemade gravy made from any slowly cooked birds or ham "jus" is added. It sure brings back some heartwarming memories with family and friends a feeling of comfort, love and coming home for the Holidays.
Making mashed potatoes or pomme puree is a labor of love. Peeling potatoes, cooking in boiling water with salt, using a food mill, adding hot heavy cream, generous portions of French butter (richer in fat content) salt and pepper and the best is to do a final taste to make sure seasonings are perfect!
My dear grandma was always watching me from afar with a caring eye when I was in charge of the food mill. Such a fun way as a child to be involved in the meal preparation and validate little hands with inquisitive minds.
Ingredients:
Yield: serves 6-8
5 lb. Yukon Gold Potatoes (use La Ratte Fingerling potatoes if available)
2 cups heavy cream
1 lb. unsalted butter, cubed and chilled
Kosher salt and freshly ground white pepper, to taste
Must have utensil: food mill
Directions:
Place the whole, unpeeled potatoes in a saucepan and cover with cold water, slowly bring the water to a gentle simmer.
Starting them in cold water prevents the skins from breaking. Cook the potatoes until they are extremely tender when tested with a paring knife. When ready, turn off the heat.
Working one potato at a time, remove the skin while still hot. Here is a little tip to avoid burning your fingers. Use a fork to hold the potato, split it in half and peel. Remove any dark spots. It is a labor of love. If you have a tamis, use it to speed up the process.
Once all of the potatoes have been passed in the food mill into a bowl, transfer them to a 4-quart saucepan. Warm the saucepan over medium-low heat, use a stiff rubber spatula to incorporate ⅓ of the hot cream into the potatoes, and beat in a few cubes of butter with the rubber spatula until the butter is emulsified into the potatoes.
Keep adding the cream, butter to develop a creamy purée. The ideal pommes purée should have a milky, creamy appearance. If the purée begins to look oily with the fat separating from the potatoes, the emulsion is breaking. To restore the emulsion, you may need to add hot water periodically, just as you would for mayonnaise or hollandaise. Additionally, regulate the heat to allow the butter to be incorporated without losing the emulsion.
Once you've achieved your desired texture, season with salt, transfer to a serving bowl, and top with a pad of butter.  Et Voila!
Bon Appetit

Chef Sylvie from Cuisine de Sylvie has been a personal chef since 2015 in Chester County, PA serving the West Chester area, Unionville, Chadds Ford, Kennett Square , Centerville, Greenville and Northern Delaware. She specializes in at home private dinner parties and believes in using only fresh and locally sourced ingredients when possible according to the seasons … Just like in France.. Marché du Jour Chef Sylvie was born and raised in Normandy, France. She always wanted to share the love and passion for French cooking and comfort food the French traditional way by only using seasonal fresh produce and meats from the local markets. She believes in healthy eating, simple foods, from scratch, only the fresh seasonal products. After a career in corporate America in purchasing and digital marketing, she decided to follow her passion by becoming a personal chef. Her intensive internship in France at "L'auberge de la Luzerne" as a sous-chef allows her to provide traditional and classic cooking to all her clients and also caters to special diets. She caters events, private dinners, birthday parties, Girls 'night out, Crepes bar party, wine and book clubs. She also provides cooking classes in small groups or one on one setting. Sylvie has joined forces several nights a week at Verbena BYOB along side executive and chef owner Scott Morozin, sharing her French culinary expertise and fine dining experience.
Comments
comments