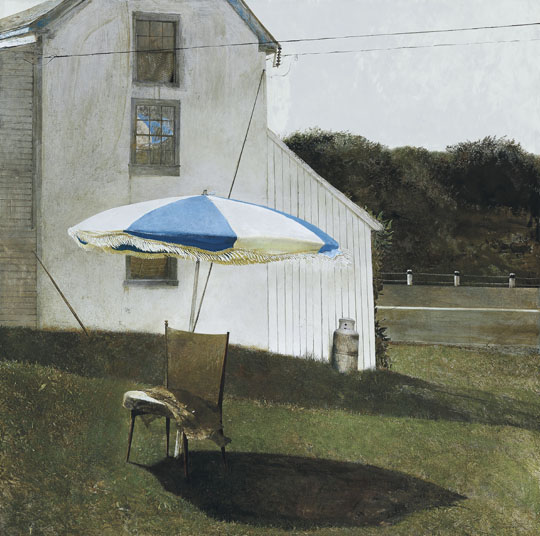 Andrew Wyeth's 1981 painting, "Oliver's Cap" was auctioned off at Christie's today and sold below the estimated value of $3 to $5 million. The auctioneer brought the hammer down after the final bid of $2 million, with the price realized of $2,415,000 including commission and sales tax. The Wyeth brought in the highest bid of the 94 works offered in the auction.
"We are so excited to include this work in our auction," said Sara Fox, senior public relations manager at Christie's. "Most people are surprised to learn that they can view museum-quality artwork at Christie's before the auctions," said Fox.
"Oliver's Cap," came from the private art collection of Ron Miller and Diane Disney Miller. Wyeth wrote to the Millers when they bought the piece, "I want you to know the egg tempera painting you have, titled 'Oliver's Cap' I consider one of my very richest (sic) and most personal pictures," according to Christie's website.
In addition to "Oliver's Cap", two other Andrew Wyeth works were included. "Olsons in the Snow" was sold for $125,000 and "Thawing" was sold for $81,250.
The works of three generations of Wyeth's were offered in auction. NC Wyeth's oil painting of Blackbeard was sold for $2,295,000. The illustration appeared in a 1917 edition of Scribner's Magazine. His "Maine Islands" went for $87,500.
If the final bid is below the reserve amount specified by the seller, the work would not be sold. Jamie Wyeth's "Angry Gander" did not garner high enough bids, nor did NC Wyeth's "The Bonaventure."
Bids in the auction come from a variety of sources. Christie accepts bids from clients in the room, registered over the phone, absentee bidders and online. Absentee bidders submit bids in advance and the auctioneer includes them up to the maximum amount the client has indicated.
"We get bids from private clients, trade and institutions," Fox said and explained that trade purchases are made by dealers either on behalf of clients or for their own inventory. For purchases, institutions refer to museums.
In a sale that featured American Art with works from American Modernism and Illustration, Hudson River School and the American West, the Wyeth works were offered along with works by Winslow Homer, Norman Rockwell and Georgia O'Keefe.
Art-lovers can check out upcoming auctions at Christies.com for information on artwork displays.

Karen Myers lives in Pocopson Township and has written for several local publications. A strong supporter of our community, Karen has served on several non-profit boards, such as Pocopson Elementary PTO, The United Way of Southern Chester County, Chester County Art Association and Tick Tock Early Learning Center. She received her M.B.A. from the University of Delaware and worked in marketing and operations with a focus on banking.
Comments
comments