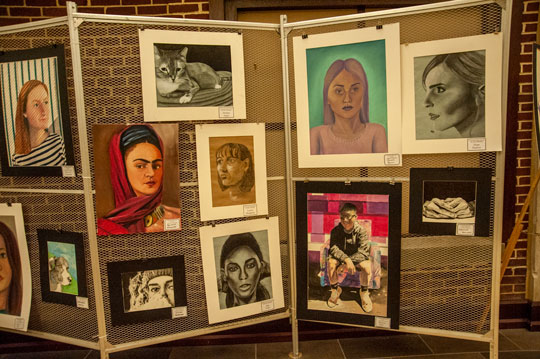 Student artists outnumbered professional artists during the 44th annual Unionville Art Gala, and the buzz was about the students' work. Even the professionals were talking about it.
Carol Mangano, fresh off a two-person exhibit at Barbara Moore Fine Art in Chadds Ford, said it was great to see the students involved and praised the art program in the entire district.
"They see the whole process, it's creative and mental growth, from kindergarten to 12th grade," she said.
According to Diane Micklin, the artists' liaison for the gala and a professional artist in her own right, "The student art gets better and better every year. The students show incredible talent."
Other random comments mentioned not just the quality, but the vigor and energy of the students' work.
Those comments were music to the ears of art teacher Louis Stamis. He said it's the function of the art curriculum "to foster and harness the student's passion."
By teaching that something as simple as a line has meaning, he explained, and how to generate light and form gives the students an understanding of what they see and how to manipulate the simple forms to give depth to a two-dimensional image to give the impression of three dimensions.
Sophia Mayer was this year's student featured artist. Her focus has been n portraiture and figures and has a fascination with the "many colors in the human face." And while her work was featured, she doesn't plan to go to art school. She might, however, minor in art.
There were two honorable mentions to Mayer, Claire Favor and Ashley Kirk. Favor said she's been drawing and painting all her life but didn't begin studying art until high school. She thinks of her work as being more illustrative and plans to study graphic design and focus on illustration.
Kirk, too, has been drawing since her younger days, going to art camps, but didn't consider herself good until she started studying during her sophomore year at UHS. That's when the light went on for her.
"Time would just fly by in art class. I truly enjoyed it," she said.
In addition to the 89 students who had works on display, 61 professional artists were also in the event.
The annual art gala is the second-largest fundraiser for the school's PTO. According to Jen Hall, one of the co-chairs this year, the show usually nets about $12,000-$15,000 each year. The money goes toward all school programs, not just the art curriculum.

Rich Schwartzman has been reporting on events in the greater Chadds Ford area since September 2001 when he became the founding editor of The Chadds Ford Post. In April 2009 he became managing editor of ChaddsFordLive. He is also an award-winning photographer.
Comments
comments