Pennsylvania State Police
• Brinton Adams, 42, of Concord Township, was arrested on several charges related to a domestic dispute earlier this month, a police report said. According to that report, troopers responded to a Naamans Creek Road address and Adams failed to comply with a lawful order and resisted arrest. After further investigation, he was arrested for harassment, disorderly conduct and criminal mischief as well as resisting arrest. The incident took place at 11:30 p.m. on Nov. 2.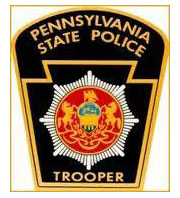 • Someone stole a Dell laptop computer from a car parked at Mackenzie Brew House on Route 202 Nov. 3. A police report said the victim had been at Mackenzie's between 6 and 8 p.m., drove home but didn't realize until he got home that the driver's side rear window had been broken and that the laptop was missing.
• State police from the Media barracks are looking for four people suspected of stealing 17 boxes of Hunter rubber boots — valued at $160 each — from the DSW shoe store in the Concordville Town Center on Nov. 2. Police described the suspects only as two black men and two black women and ask anyone with information to call Tpr. Ryan Ard at 484-840-1000. The theft took place at 7:29 p.m. on Nov. 2.
• According to a police report, Ariana M. Ahadi, 25, of Chadds Ford, was cited for driving too fast on Heyburn Road after she ran off the roadway and struck a tree. The one-car crash happened at 11:54 a.m. on Oct. 30.
• Police said they arrested Kenneth Brett, 55, of Coatesville, on retail theft charges on Oct. 29. A report said Brett took a $139 Watchdog battery and a $415 Watchdog Basement sump pump system from the Home Depot.
• An unidentified suspect stole an auxiliary cord from a silver Jeep Grand Cherokee parked on Big Woods Drive in Concord Township on Oct. 26. The same suspect was seen on surveillance cameras breaking into two other vehicles on the street. Police said the suspect was wearing a light-colored shirt and beanie and had a light-colored string bag. The incident happened at 2:27 a.m.
• Police are looking for a woman described as white and heavyset, 40-50 years of age, in connection with the theft of a $60 white agate stone ring and $60 citrine earrings from the Soft Surroundings store on Route 1 in Concord Township on Oct. 26. The theft took place at 3 p.m.
• Michael Meyers, 27 of Avondale, was arrested on drug charges following an Oct. 19 traffic stop on Baltimore Pike at Brinton Lake Road, according to police. The report said Meyers was under the influence of a controlled substance and was in possession of a small amount of marijuana.
• A 60-year-old woman was the victim of a pickpocket at the Marshall's in Concord Township on Oct. 19. Police said the unknown suspect removed a set of keys from the victim's purse. Police continue the investigation.
• A traffic stop on Route 1 in Chadds Ford led to a drug arrest on Oct. 11. Police said Ellis Ahmahn Nettles, 20, of Philadelphia, was found with marijuana and paraphernalia during the stop. The report said he was stopped because his vehicle had a prohibited sunscreen device.
• Monica Boccella, 41, of Blue Bell, was arrested for DUI in Pocopson Township on Oct. 16, a state police report said. According to the report, a traffic stop was made at 12:16 p.m. in the 200 block of Red Lion Road for several traffic violations. Police said she admitted to using illegal drugs.
• State police from the Avondale barracks said Cinnaya Regina Demby, 40, of Philadelphia, was arrested on drug charges after she was stopped for doing 90 mph on Route 1 near Route 41 on Oct. 19. During the stop, a report said, troopers detected the odor of marijuana and conducted a search, finding a small amount of marijuana and paraphernalia.
• Donald R. Maxwell Jr., 49, of Kennett Square, was arrested for DUI and possession of methamphetamine and marijuana, police said. State police made the arrest on Oct 23 on Route 1 in New Garden Township.
• A 31-year-old man from Kennett Square, unnamed in the report, was arrested on DUI and drug charges Oct. 25 on Red Lion Road.
• An unnamed 39-year-old man from Kennett Square was also arrested  for drug possession on Oct. 26. Police said they were checking on the welfare of the man in the parking lot of the Wawa in East Marlborough Township and found him to be possessing a controlled substance.
• Richard Bell, 21, of Prospect Park, was arrested for drug possession in East Marlborough Township on Nov. 1, police said. According to the report, troopers found marijuana when they made contact with Bell who was operating "a suspicious vehicle."

See Contributors Page http://chaddsfordlive.com/writers/
Comments
comments