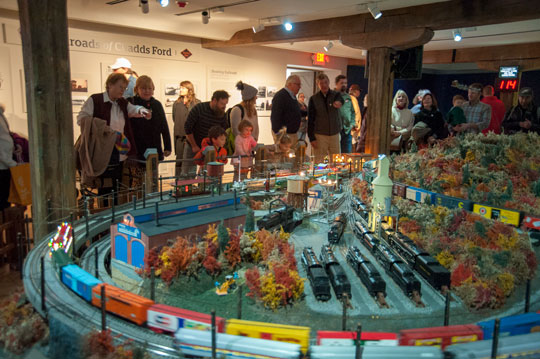 The magic of the holiday season returns to the Brandywine River Museum of Art during Brandywine Christmas, Nov. 29, through Jan. 5. This spectacular holiday experience for all ages includes a gallery filled with an expansive model train display; a special exhibition featuring a selection of three beloved fairy tales and their evolution through time and different cultures; towering trees decorated with whimsical Critter ornaments; and a wide selection of holiday events and programs for the whole family.
Cinderella & Co. — Three Fairy Tales Reimagined explores the enduring stories of Cinderella, The Three Little Pigs and Goldilocks and the Three Bears, presenting a wide array of illustrations created through time and across cultures. For centuries, fairy tales have enchanted children and adults alike. These age-old stories — endlessly told and reimagined over time and place — spark our imaginations, teach life lessons, and touch on dark fears and basic truths. Guest curated by H. Nichols B. Clark and organized by the Brandywine, the exhibition includes more than 100 drawings from books illustrated by 35 artists, revealing both cultural and stylistic diversity.
The Brandywine River Museum of Art's model train display, a holiday family favorite since 1972, offers something for everyone with its dazzling array of both toy and scale model trains made by Lionel, Williams, Atlas, Mike's Train House, K-line and others. The Brandywine Railroad features trains running on 2,000 feet of track and includes more than 1,000 pieces, including locomotives, passenger and freight trains, and trolleys that pass through a small town, a farm, factories and even a carnival.
The annual Critter Sale — Christmas ornaments, handmade from local natural materials — runs Friday, Dec. 5 through Sunday, Dec. 8.

Comments
comments