Pennsylvania State Police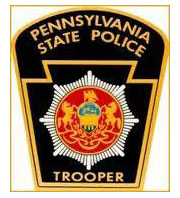 • A 25-year-old man from Concord Township was threatened after exposing himself while checking his online dating site. Police said the man was messaged on Oct. 26 by someone using the name "Sarah Claire." The suspect convinced the man to expose himself to her on his webcam, but then threatened to send videos to his employer and family unless he wired $400 to an account the suspect provided. Police said the threats had no credibility but were continuing the investigation.
• State police from the Media barracks are investigating the reported theft of liquor from the Fine Wine and Good Spirits store on Route 202 in Chadds Ford Township on Oct. 23. Police said they are looking for a couple — a black man and woman, he in his 60s and she in her 40s. According to the report, the man put several bottles of liquor into a blue cooler bag while the woman was distracting the clerk. The manager tried to confront the man who ran from the store. The two suspects fled in a light blue minivan, but the manager was able to take down the license plate.
• An unnamed motorist was unable to keep his 2001 Chevrolet Silverado in its proper lane and sideswiped another vehicle on Brinton Lake Road near Route 1 on Oct. 19. Police reported no injuries. The accident happened at 12:53 p.m.
• The driver of a 2008 Lexus — unnamed in the police report — was cited after driving off the road to avoid hitting a school bus. According to the police report, the driver was southbound on Bethel Road approaching Running Spring Lane in Concord Township when a school bus made a left turn from Running Spring onto Bethel. The Lexus driver didn't notice the bus in time to stop. Instead, the driver ran off the road and struck a tree. The car came to rest wedged between two trees. No injuries were reported. The accident happened 2:55 p.m. on Oct. 23.
Birmingham Township Police
Birmingham Township Police Chief Thomas Nelling told supervisors during their Nov. 4 meeting that his department responded to 1,223 incidents during October and that there were 10 criminal arrests. No details were discussed but one resident said there had been recent thefts from cars and asked if the township could install surveillance cameras at Sandy Hollow Heritage Park. Nelling said he would look into it.
See Contributors Page http://chaddsfordlive.com/writers/
Comments
comments