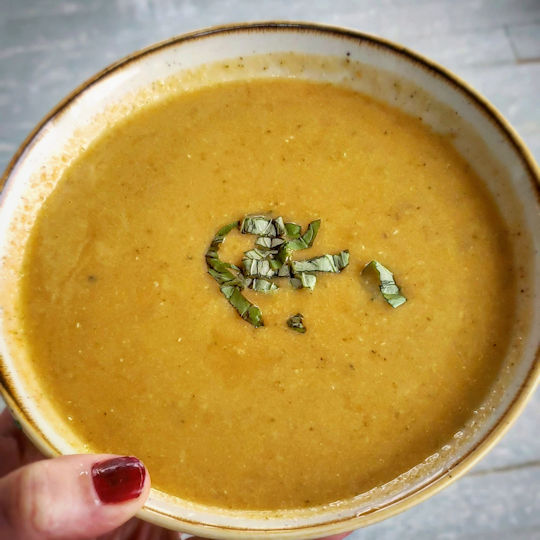 Autumn's best silky, warm soup has a basil chiffonade and one secret ingredient.  Embrace seasonal vegetables from your local farmer's markets just like in France. I love visiting Kennett Square farmers' market on a Friday afternoons or the West Chester Growers market on a crisp fall day and shopping by at Baily's dairy farm for any last minute vegetables.
Seasonal local vegetables are not only good for you since they provide the best nutrients from its freshness and the terroir. it is also a sustainable way for all of us to show support to our local farmers and growers. The freshness of nature' s bounty and the small carbon foot print will impact more than your palate. It provides an economical support to our community. It goes beyond food . It creates a web of solidarity amongst people that seek connection through food... French people have been regular shoppers at their local "marché" for many decades.  It is part of the culinary experience.
This week' s recipe is quite simple. It is clean, fresh and delicious. The results are so rewarding that canned soups will be part of your past. A vegan version is easy to do. Just substitute chicken broth with low sodium vegetable broth (or make your own with all your vegetable scraps that you kept in a container in your freezer)
Here is the recipe : serving 8 people
Ingredients:
2 tablespoons extra virgin olive oil
4-5 cups butternut squash, cut into 1"cubes (about 1 medium butternut squash- microwave your squash for 1 minute so the skin peels easier)
1½ lbs. organic Bartlett pears, unpeeled, cored, and quartered (about 4 pears)
1 medium onion, peeled and chopped
1 cup of white wine ( Secret ingredients ... Always use wine in cooking ... French Chef motto!)
3 cups low sodium chicken or vegetable broth
Top with creme fraiche, and/or basil chiffonade...
DIRECTIONS:
In a large pot, heat the olive oil over medium heat. Add the onion and squash.
Cook until softly caramelized 10-12 minutes.
Add pears.
Deglaze with white wine.
Stir and add broth.
Cook for 15 minutes or until done .
Use a food processor in two batches if necessary.
Serve with basil chiffonade (shredded/finely cut) to garnish the soup or add creme fraiche for a rich creamy texture...
Bon appétit!!

Chef Sylvie from Cuisine de Sylvie has been a personal chef since 2015 in Chester County, PA serving the West Chester area, Unionville, Chadds Ford, Kennett Square , Centerville, Greenville and Northern Delaware. She specializes in at home private dinner parties and believes in using only fresh and locally sourced ingredients when possible according to the seasons … Just like in France.. Marché du Jour Chef Sylvie was born and raised in Normandy, France. She always wanted to share the love and passion for French cooking and comfort food the French traditional way by only using seasonal fresh produce and meats from the local markets. She believes in healthy eating, simple foods, from scratch, only the fresh seasonal products. After a career in corporate America in purchasing and digital marketing, she decided to follow her passion by becoming a personal chef. Her intensive internship in France at "L'auberge de la Luzerne" as a sous-chef allows her to provide traditional and classic cooking to all her clients and also caters to special diets. She caters events, private dinners, birthday parties, Girls 'night out, Crepes bar party, wine and book clubs. She also provides cooking classes in small groups or one on one setting. Sylvie has joined forces several nights a week at Verbena BYOB along side executive and chef owner Scott Morozin, sharing her French culinary expertise and fine dining experience.
Comments
comments