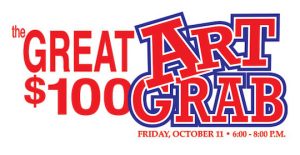 • It's the Great $100 Art Grab next week at the Chester County Art Association. After an Oct. 10 opening reception for two new exhibits, CCAA will hold the Art Grab on Friday, Oct. 11 at 6 p.m. It's a fundraiser featuring 160 works of art created by 40 local artists. Each piece will sell for $100. All proceeds benefit CCAA. Want to pick first? Become a VIP by making a donation of $100 before the event ($206 total). Call the West Chester Office at 610-696-5600 to obtain your VIP status.
• The Kennett Symphony presents its opening night concert: From Lament to Triumph featuring two symphonic masterpieces: Tchaikovsky's Symphony No. 5 and Rachmaninoff Piano Concerto No. 2 with pianist Thomas Pandolfi. The concert will be held on Saturday, Oct. 12,  7:30 p.m. in the Unionville High School auditorium. Adult ticket prices range from $35 - $63. Student tickets up to age 18 are $10.
• The Chester County Historical Society will host a lecture on genealogical research strategies by Kimberly Bucklaw. The event includes light refreshments. Bucklaw is an historian, educator, and professional genealogist with more than 15 years research experience, she specializes in county government records and property research. The workshop will take place from 9 a.m. to noon on Saturday, Oct. 12 at the Chester County Historical Society, 225 North High Street in West Chester. For more information, phone 610-344-67636. For advance tickets — $30 for CCHS member and $40 for nonmembers —  go here.
• Anyone interested in real life crimes can get inside information from the FBI agents that investigated them during a series of lectures offered by the Wilmington University Criminal Justice Institute. The lectures are scheduled for Oct. 15, Nov. 12 and Dec. 10. The series leads off with FBI special agent Jeffrey Rinek who obtained a surprise confession from serial killer Cary Stayner, whose killing of four young women became known as the Yosemite Park Murders. FBI case agent Angelo Lano, who gathered evidence that led to the creation of articles for the impeachment and resignation of an American president, will speak on Nov. 12. On Dec. 10, Jim Fitzgerald will talk about his work in the investigation of the Unabomber, the Jon Benet Ramsey, the anthrax mailings and the D.C. sniper cases. Lectures run from 5:30-8 p.m. at the Double Tree by Hilton at 4727 Concord Pike, Wilmington. Attendee preregistration is required. Go to https://www.wilmu.edu/cji/index.aspx to register.
• Delaware County's 19th annual Run for Heroes 5k Run and Walk, benefiting children of fallen Delaware County first responders will be held on Sunday, Oct. 13 outside of the Springfield municipal building. The community is encouraged to run for a great cause. More information, including a link to register can be found here. Registration on the day of the run starts at 7:30 a.m. The run begins at 9 a.m.
• It's the battle of the bands Saturday, Oct. 19, at Unionville High School for the annual March on the Brandywine when 14 marching bands get together for a night of musical competition. The show begins at 6 p.m. Tickets will be sold at the gate for $12 for adults, $8 for students/seniors and children six and under are free. A free program book will be included with each ticket purchase, and food will be available for sale.
• Concord Township will hold a recycling event from 8-10 a.m. on Saturday, Oct. 12 at the township public works building on Smithbridge Road. The event is for Concord Township residents only and proof of residency is required. There is a limit of one TV or computer monitor per household. There will be document shredding, collection of household goods and clothing and unwanted and expired medications.
• Chadds Ford Township and the Chadds Ford Civic Association will hold a fall roadside cleanup and recycling event on Saturday, Oct. 19. The roadside cleanup begins at 8 a.m. and the recycling starts at 9. Recycling fees are $10 per microwave, air conditioner or humidifier, $30 for flat screen and tube televisions and for computer monitors and $100 for console or projection televisions. Fees are payable by check only and made out to Chadds Ford Township.
• Saturday, Oct. 19 is the Newlin Grist Mill 5K Trail Run. Participants can run the 5K through the 169-acre park or walk a one-mile course at their own pace. Proceeds will go toward the restoration of the historic water system which powers the mill. Registration opens at 8 a.m. the morning of the race, followed by a warm-up at 8:45. The 5K trail run starts at 9, while the one-mile walk kicks off at 9:15. A kids' fun dash will be held at 9:45 a.m. Awards will be given out at 10, and Bryn Mawr Trust is providing an ice cream truck. The cost is $30 per person for the run and $15 per person for the walk. Sign up at https://runsignup.com/Race/PA/GlenMills/NewlinGristMill5k.
• The Beatles may be gone but their music lives on. The Fab Faux, a Beatles tribute band will be performing at The Grand Opera House at Copeland Hall in Wilmington 8 p.m. on Friday, Oct. 25. They will perform with  The Hogshead Horns & The Creme Tangerine String. For pricing and tickets, go here.
• Now through Nov. 3, visitors to the Brandywine River Museum of Art can explore the Halloween-themed paintings of renowned Philadelphia artist Peter Paone in the exhibit Reality Reassembled: The Halloween Paintings of Peter Paone. Halloween has long been a subject of fascination for the artist, and in the last decade he has produced a series of works devoted to the theme. Richly painted in jewel tones and textured surfaces, Paone creates vibrant paintings of extravagantly costumed figures whose mask-like expressions create an unsettling mood. The exhibit is included with museum admission.

See Contributors Page https://chaddsfordlive.com/writers/
Comments
comments