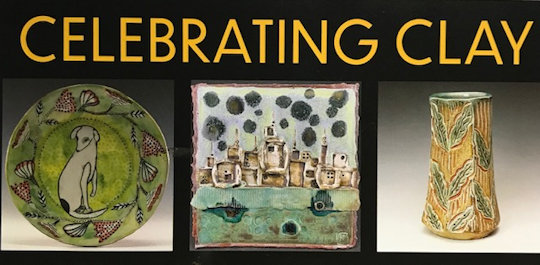 It's clay time. Three clay exhibitions are opening this week and as an artist working in this medium, I am excited to spread the word about them. The invitational exhibition "Celebrating Clay" at Historic Yellow Springs in Chester Springs, features 24 seriously good artists from up and down the East Coast including Peter Beasecker, Jasper Brinton, Nell Hazinski, Rhoda Kahler, Suzanne Kent, Doug Peltzman, Liz Quackenbush and the legendary Jack Troy, to name a few.
Lindsay Brinton, a founding director of Chester Springs Studio shared this with me, "Celebrating Clay was organized to enrich the Studio's clay and wood-firing program, introduce adult and youth students to the work of contemporary clay artists making functional and sculptural work in studios across the Delaware Valley and encourage a revival of the nationally recognized 'Studio Days' exhibition, visiting artist, and artist-in-residence programs of past years." This year's curators, Brad Johnson and Bernadette Curran,  are also showing their work, both share a passion to mount a top notch clay focused show. Also on view, "Show us your Best Mug!" is a juried exhibition organized by the curators to give students and emerging artists a chance to be included in the event. An opening reception and gala will be held on Friday, Oct. 4th from 6:00 p.m. to 9:00 p.m. For tickets and details about other events tied to the exhibition, visit https://yellowsprings.org.
A ceramics exhibition titled "Ambush" opens on Friday at The Art Trust in West Chester and is featuring eight artists who are current faculty at Towson University. Both sculptural and functional works will be on view. I asked the curator, Andrew Snyder, Associate Professor of Art at West Chester University, about the meaning behind the title and he said, "An ambush is a gathering of tigers. Ambush is a nod to my alma mater, Towson University whose mascot is a tiger. The ceramics area at Towson has an amazing group of ceramic artists as their faculty with area coordinator Rich Holt at the helm."  Visitors will see high quality works by Holt and others including what Brad Blair calls his "sculptural monstrosities" and Danielle Hawk's beautiful bowls. The opening reception is Friday Oct. 4th from 5:00 p.m. to 8:30 p.m.
Last but not least, mark your calendar for an exhibition titled "The Clay Bowl" which opens on Thursday, Oct. 10th at Chester County Art Association (CCAA).
I first saw Stan Smokler's timeless steel sculptures at an exhibition last June. His re-purposed found object pieces command attention. Smokler is part of "The Breakfast Club," a small group of esteemed artists working in the Greater Brandywine Valley. He, along with Hugh Atkins, Glenn Blue, J. Clayton Bright, Rob Evans, George Martz, Terry Roberts, Gus Sermas and Kirby Smith meet regularly to share their art and experiences. The group is hosting an exhibition of their works at Founders' Gallery in Wilmington, DE at Tower Hill School from Oct. 4th to Oct. 31st. The opening reception is on Friday, Oct. 4th from 5:00 p.m. – 8:30 p.m.
There are several gorgeous works on view by eight alumni at Pennsylvania Academy of Fine Art including intricate works by Gregory Brellochs and Amy Herzel. The show titled "Downriver in the Multiverse" is a relevant collection of works focusing on our relationship with nature. Environmental, political and technological issues are addressed and some of the artists venture into the topic of spirituality.  It's a quiet show that packs quite a punch. If you are in Center City between now and October 13th, take a look. It's on the first floor in the Alumni Gallery. Visiting will be worth the admission fee because the larger show that opened on Sept 26th, "Ancient History of the Distant Future" is quite spectacular. Jodi Throckmorton, Curator of Contemporary Art collaborated with Joseph del Pesco, International Director of KADIST (a non-profit in San Francisco and Paris) to intersperse contemporary works with PAFA's historic collection. They've created some powerful juxtapositions that are hard to ignore. This show is on view now through February 02, 2020.
Other Events worth checking out: Station Gallery is featuring wonderful new oil and encaustic wax paintings by Monique Sarkessian. "Glory – New Paintings" opens with a reception on Friday, Oct. 4th. Also on Oct. 4th, Square Pear is hosting a reception for "Inspired by Nature", a show featuring several painters including Lidia Kohutiak, Denise Vitollo and Diane Cannon along with jeweler Alexi Kletjian. Annie Strack, a plein air artist from Kennett Square will also be on hand and painting during the evening.  At Gallery Duo, open Wed. through Sat. 11:00 a.m. – 5:00 p.m., see new works from Gallery artists, Alessandra Manzotti, Sus Iserbyt, and Katee Boyle.
Whatever you do this week, support the arts!

A native of Philadelphia, Constance McBride lived in Arizona for 16 years, where desert observations made a transformative impact on her work as a research based visual artist. Passionate about contemporary art, she was actively engaged in the local arts community. She served as a board member for several art organizations, managed an artist collective/gallery space, curated and juried several exhibitions and wrote for two arts publications in Phoenix. She taught ceramics at Shemer Art Center and Museum and exhibited her work both locally and nationally. McBride returned to Pennsylvania in 2018 and resides in Chester Springs with her husband and two dogs. In West Chester, she serves as a board member at The Art Trust Gallery at Meridian Bank and teaches ceramics at Chester County Art Association. She also teaches at Clay on Main in Oley, PA. She is a member of American Craft Council, Philadelphia Sculptors, and Women's Caucus for Art, Philadelphia Chapter.
Comments
comments