Leaves are changing colors and the nights are getting cooler. The splendor of fall is upon us. It is this setting which allows people to revel in the premier event on the calendar: the Great Pumpkin Carve, a unique celebration enjoyed by thousands for more than four decades, hosted by the Chadds Ford Historical Society and sponsored by David Auto.
The Great Pumpkin Carve was started by artists Jimmy Lynch, Andrew Wyeth and Jamie Wyeth in the 1970s in front of the Chadds Ford Inn. The event has grown each year and is now an autumn tradition for thousands of people. This family-friendly festival features over 70 local artists competing as they carve huge pumpkins into amazing jack-o-lanterns.  The pumpkins, which weigh as much as 400 pounds, will be illuminated by candlelight on Thursday, Oct. 17, coming to life again the following two nights. Pumpkins are judged and winners declared in several categories: Best Overall, Most Halloween, Best Carving, Most Original and Best Use of Pumpkin. All three nights spectators can vote for their favorite pumpkin and the winner will be awarded with the People's Choice.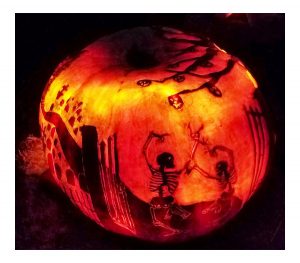 In addition to the amazing pumpkins, the Great Pumpkin Carve offers entertainment for all ages including live music, raffle prizes, hayrides and other fun activities. The Society's expanded pumpkin patch provides additional room for easier viewing along with more admissions lines to reduce waiting time. The kid-friendly Haunted Trail features a path of Halloween inflatables leading to scenes filled with ghosts, spiders, witches, ghouls and an eerie haunted cemetery. The event offers local wine, beer and cider in addition to great food, enjoyed as a live band serenades the crowd throughout the evening. You might even see a friendly werewolf stalking the fields in the light of the moon…
The Great Pumpkin Carve is held on the grounds of the Chadds Ford Historical Society at 1736 North Creek Road in Chadds Ford. Admission is $15 for adults, $5 for children 7 to 17; no charge for children 6 and under. Society members are free with membership card. All ticketing is at the gate. Parking is FREE at the event. The Great Pumpkin Carve goes from 4 pm to 9 pm on Thursday and Friday, October 17th and 18th; hours are extended on Saturday, October 19th, from 3 pm to 9 pm. Registration is required to enter the pumpkin carving competition. For more information, contact the CFHS at 610-388-7376 or visit their website at www.chaddsfordhistory.org.
[Full disclosure: This piece was written by Gene Pisasale, husband of Historical Society President Phyllis Recca. He is directly involved with the Haunted Trail at The Great Pumpkin Carve.]

Comments
comments