Help Us Uncork the Cure to Cancer at the 28th Annual Wine Festival at Historic Dilworthtown. On Sunday, October 13, more than 1,500 oenophiles will help us uncork the cure to cancer as they celebrate the 28th Annual Wine Festival at Historic Dilworthtown. As the county's premier wine event, the festival features more than 100 wines, craft beers, sumptuous fare prepared by Montesano Bros. Catering and local food trucks, a silent auction, shopping opportunities in the Gallery of Artisan Vendors, live music, a Performance Car Show, and much more. Proceeds from the wine festival benefit patients of The Abramson Cancer Center at Chester County Hospital and Penn Medicine at Home.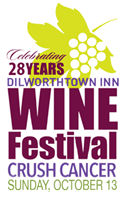 For friends and family members battling cancer, the cancer specialties at Chester County Hospital bring the world-class care of the Abramson Cancer Center close to home. As part of Penn Medicine, it offers the latest treatment protocols and cutting-edge technology. The outstanding medical staff, clinical team, nurse navigators and hospital volunteers are known for providing the highest level of care and attention to the needs of our patients. And, the hospital works to give every patient every edge in their battle with cancer, including assistance for those who are uninsured and underinsured. Outside of the hospital, patients continue to have access to the highest level of care through the services of Penn Medicine at Home (home health, hospice, palliative care, and Senior HealthLink services).
The Wine Festival is organized by the Brandywine and Greystone Women's Auxiliaries to the hospital. To attend, volunteer, sponsor or donate, visit www.2crushcancer.com or call 610.431.5054.  General admission tickets are $45 until October 5, 2019/ $50 starting October 6, 2019. Rain or shine the event will be Sunday, October 13, 2019 from 12 noon to 4 p.m. in Historic Dilworthtown, 1390 Old Wilmingtown Pike, West Chester, PA 19382.
Enjoy the Grand Tasting of more than 100 wines & Craft Beer, Performance Car Show, Live Entertainment, Silent Auction and Shopping Gallery. Food is available for purchase from local food trucks.
In their fourth year playing for the Wine Festival, The Vince Brown Band is a musical ensemble with decades of experience in the tri-state area. Entertaining for private parties, local restaurants, festivals and fundraisers is their specialty as their experience enables them to adjust to the uniqueness of each event. The members of the group have many years of performance experience and use their talents to elevate the enjoyment of guests at each event.
We want you to enjoy the day responsibly. The designated driver package includes 5 General Admission Tickets and One Free Designated Driver Ticket. The Designated Driver Ticket allows you to enjoy the Performance Car Show, Shopping Gallery, Live Entertainment, Silent Auction and includes lunch and a non-alcoholic beverage.
Chester County Hospital was Founded in 1892 as the county's first hospital, the non-profit has grown into a 248-bed acute-care inpatient facility in West Chester. It also has outpatient services in Exton, West Goshen, New Garden, West Grove, Jennersville, and Kennett Square. In 2013, Chester County Hospital became part of Penn Medicine, which is one of the world's leading academic medical centers, dedicated to medical education, biomedical research, and excellent patient care. In addition to quality-driven medical and surgical services, Chester County Hospital also offers home health, inpatient hospice and skilled nursing care; occupational medicine; outpatient laboratory, radiology and physical therapy services; wound care; cardiopulmonary rehab; and a prenatal clinic for the underserved. Learn more at ChesterCountyHospital.org. In 2020, Chester County Hospital will complete the largest expansion in its history. The project will welcome a state-of-the-art procedural platform with 15 operating room suites, a 99-bed patient tower, a new main entrance and an expanded and renovated Emergency Department.
The Dilworthtown Inn Wine Festival is jointly organized by the Greystone and Brandywine Branches of the Women's Auxiliary to Chester County Hospital. Celebrating their 125th anniversary, the Women's Auxiliary continues to be one of the most active opportunities for volunteering at Chester County Hospital. The women who generously give in this capacity represent the gentle arms of a community dedicated to their community healthcare provider. Lasting friendships have been made among the members who represent our Auxiliaries. Energetic and organized, their work at the hospital is evident and greatly appreciated.

Comments
comments