PAWS for People, a Newark-based pet therapy organization, announces its first Wag & Walkathon, a month-long cumulative marathon that replaces the traditional PAWS Wag-n-Walk 5K Run. From Sept. 19 to Oct. 19, participants can walk or run with a friend, a pet, or individually, logging the number of miles they walk or run each day during this period. The goal: Complete a marathon (26.2 miles) in a month.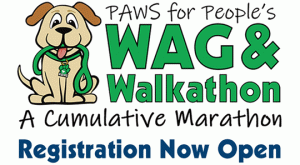 The Walkathon will culminate in a Cross the Finish Line event - rain or shine - at Glasgow Park on Oct. 19. This event will include many of the favorite components of the Wag-n-Walk 5K Run: doggie games & contests, vendors, music, and food. Other special events will also be featured.
To help prepare for the Walkathon, participants can visit one of eleven "Gear Up" events from Sept. 9 – 19 (sponsored by Concord Pet). At these events throughout Delaware and the surrounding counties of Maryland, New Jersey and Pennsylvania, they can pick up their shirt, pet bandana and walking snacks.
"Our Wag-n-Walk & 5K Run was very successful for 10 years, and we believe this new event will enable even more people to support the mission of PAWS," said Lynne Robinson, PAWS for People's executive director. "This cumulative format is perfect for those who have always wanted to run a marathon, but 26.2 miles in a few hours is not their cup of tea. This way, individuals or groups can run/walk at their leisure. It's a great way for companies to encourage healthy activity and fun among their employees. We feel this format provides flexibility to make the event appeal to everyone."
The registration fee for the Walkathon is $20 per person for children 12 and under and $30 per person for adults 13 and over. To register or for details on the Wag & Walkathon, Cross the Finish Line Celebration, and Gear Up Events, please visit www.PAWSforpeople.org/walkathon/ or call 302-351-5622.
See Contributors Page http://chaddsfordlive.com/writers/
Comments
comments