Pennsylvania State Police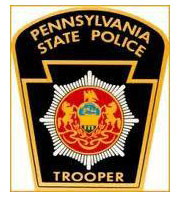 • State police from the Avondale barracks are investigating a reported theft in Pennsbury Township from a resident of Crossland Drive. Investigation revealed the victim's niece, who has power of attorney, removed $500,000 from the victim's brokerage account, police said. The victim contacted police on Aug. 6.
• A 46-year-old male, unnamed by police, was arrested for DUI after he was found unconscious in a black Volkswagen Jetta and blocking the roadway at Routes 1 and 202. The incident happened at 7:02 p.m. on July 12.
• Unknown suspects are being sought in a burglary on Elton Farm Circle in Concord Township. Troopers from the state police barracks in Media responded  to a call for a burglary in progress on July 23. The residence was cleared and secured, according to the report, but troopers found the home had been ransacked and a rear-facing window had been smashed. Silver jewelry, an undisclosed amount of cash and two vehicles had been taken. The investigation is continuing.
• Someone entered an unsecured vehicle in the Costco parking lot in Concord Township on July 19 and stole a purse and cell phone.
• Police are investigating a reported statutory sexual assault on a 15-year-old girl. Suspects, unnamed in the report, are described only as two men, 20 and 35 years of age. The report gave no specifics on the location, saying only that it happened in Delaware County.
• An unidentified woman — driving while suspended for DUI — was found to be DUI and in possession of heroin. Police said the vehicle was stopped for code violations on July 26 on Route 1 in Concord Township at 11:05 a.m.
• Police said Courtney A. Caddell, 30, of Wilmington, was cited for following too closely after she struck another vehicle from behind on Route 202 near Dilworthtown Road on July 29. No injuries were reported.
• Jesse G. Lemire, 38, of Hockessin, was cited for following too closely following an 11:34 a.m. accident on Route 1 in Concord Township on July 29, police said. The accident happened in the southbound lanes just north of Route 202. The driver of the vehicle that was struck was transported to Riddle Hospital for possible injuries, according to the report.
Kennett Township Police
On July 6, Lillian Mary Ridgely, 18, from Camden, Del. was arrested for possession of marijuana after a traffic stop in the 100 block of East Hillendale Road, police said. According to the report, officers detected the odor of marijuana coming from within the vehicle and a small amount of marijuana was seized from Ridgely's possession.

See Contributors Page https://chaddsfordlive.com/writers/
Comments
comments